Pro-Player Spotlight: Lamar Jackson
Hang on for a minute...we're trying to find some more stories you might like.
Lamar Demeatrice Jackson Jr.  is a quarterback for the Baltimore Ravens of the National Football League . He played college football at Louisville and was selected 32nd overall by the Ravens in the first round of the 2018 NFL Draft. At Louisville, Jackson won the Heisman Trophy, Maxwell Award, and Walter Camp Award and was a unanimous All-American as a sophomore in 2016.
Intended to serve as a backup in his rookie season, Jackson became the Ravens' starting quarterback after starter Joe Flacco was injured in a game against the Pittsburgh Steelers, and earned recognition during the latter half of the year for his on-field success, which included helping the team clinch the AFC North division title.
Early years  
Jackson was born in Pompano Beach, Florida, on January 7, 1997. He played Pop Warner football in the same Florida league with Ravens wide receiver Marquise Brown, though they were on different teams. He attended Boynton Beach High School in Boynton Beach, Florida. He was rated by Rivals.com as a four-star recruit and committed to the University of Louisville to play college football.
In high school, Jackson played two seasons of varsity football. In those two years he threw 31 passing touchdowns, ran for 22 touchdowns, had over 2,000 passing yards, and a high school career accumulated quarterback rating of 102.7.He also ran for his high school track team, posting a personal record of 11.45 seconds in the 100 meter dash.
College career  
Freshman year   
As a freshman at Louisville in 2015, Jackson played in 12 games and made eight starts. He completed 135-of-247 passes for 1,840 yards with 12 touchdowns and eight interceptions and ran for 960 yards and 11 rushing touchdowns. He was named the MVP of the 2015 Music City Bowl after passing for 227 yards with two touchdowns and rushing for a Music City Bowl-record 226 yards and two touchdowns.
Sophomore year   
During the first game of his sophomore year, against the Charlotte 49ers, Jackson set a school record for total touchdowns with eight, all of them in the first half. Against Syracuse, Jackson completed 20 of 39 passes for 411 yards, one touchdown, and one interception, with 199 rushing yards and 4 rushing touchdowns, with all five touchdowns coming in the first half. Against #2 Florida State, Jackson completed 13 of 20 passes for 216 yards, threw one touchdown and one interception, and had 146 rushing yards and 4 rushing touchdowns. He scored 4 of the 5 total touchdowns in the first half. The game made Jackson the Heisman front runner, and gave the Cardinals a No. 3 ranking, their highest since 2006. Against Marshall, Jackson completed 24 of 44 passes for 417 yards and 5 touchdowns, and had 62 rushing yards and 2 rushing touchdowns. Against No. 5 Clemson, Louisville's offense totaled 586 yards, with Jackson accounting for 295 passing yards, 162 rushing yards, and three total touchdowns . The Cardinals eventually lost the game 42–36. On December 8, Jackson was awarded the Walter Camp Award as the player of the year and the Maxwell Award as the best all-around player in college football.
On December 10, 2016, Jackson was selected as the 2016 Heisman Trophy winner over fellow finalists Deshaun Watson, Dede Westbrook, Jabrill Peppers, and Baker Mayfield. He became Louisville's first Heisman Trophy winner in school history and the youngest ever recipient of the award.
Aside from all the nationally recognized awards, Jackson also won prestigious awards within the University of Louisville. In 2017, Jackson won a Louie for being named the Adidas High Performance Male Athlete of the Year for his outstanding sophomore campaign. He also won a Louie for Play of the Year after the leap he had in the 2016 Syracuse game.
Junior year   
When entering the 2017 season, the fan base and media had high expectations as Jackson would start his Junior year season. The first test of the season was going into the first home game on September 16. College GameDay announced their return to the University of Louisville to host the matchup between the returning National Champions, Clemson Tigers, and the Cardinals. Despite the 47–21 blowout the Tigers upheld, Jackson did not let the numbers affect his playing ability. His remarkable statistics led him to return to New York as a Heisman finalist for the 2017 season. He finished in third place in the Heisman voting, losing out to Baker Mayfield and Bryce Love. Jackson played in 13 games, finishing with 3,660 passing yards, 27 touchdowns, and 10 interceptions.
Following the 2017–18 school year, Jackson was named the men's ACC Athlete of the Year for all conference sports, sharing honors with women's winner Arike Ogunbowale of Notre Dame basketball.
Collegiate statistics   
Jackson's career college statistics were as follows:
Professional career  
On January 5, 2018, Jackson officially announced that he would be entering the 2018 NFL Draft. Controversy arose when draft pundits doubted Jackson's quarterback abilities and suggested that he switch positions due to his athleticism, but he remained adamant in playing quarterback professionally. As a result, he declined to run drills such as the 40-yard dash during the NFL Scouting Combine to focus on displaying his passing skills.
Jackson was drafted by the Baltimore Ravens in the first round with the 32nd overall pick in the draft, who traded up for the selection with the Philadelphia Eagles. He was the fifth quarterback selected that year.
2018 season: Rookie year   
Jackson made his NFL debut relieving starting quarterback Joe Flacco in the second half of a 47-3 victory against the Buffalo Bills, finishing with 24 passing yards and 39 rushing yards. During Week 7, Jackson scored his first NFL touchdown on a 1-yard run as the Ravens narrowly lost to the New Orleans Saints by a score of 24–23. Jackson threw his first NFL touchdown pass, a 26-yard completion to fellow rookie tight end Hayden Hurst, the next week in relief of Flacco in the fourth quarter of a 36–21 loss to the Carolina Panthers.
On November 18, 2018, Jackson made his first NFL start against the Cincinnati Bengals in place of the injured Joe Flacco, who injured his hip two weeks prior against the Pittsburgh Steelers. Jackson went 13 for 19 for 150 yards and an interception and rushed for 117 yards, which was a Ravens franchise record for rushing yards by a quarterback in a single game in a 24–21 victory. The following week against the Oakland Raiders, Jackson threw for 178 yards, one touchdown, and two interceptions. He also rushed for 71 yards and a rushing touchdown. The Ravens won by a score of 34–17. During Week 13 against the Atlanta Falcons, Jackson passed for 125 yards and rushed for 75 yards and a touchdown in a 26–16 victory. In a Week 14 27–24 overtime loss to the Kansas City Chiefs, Jackson threw two touchdowns for the first time in his career.
Jackson helped the Ravens defeat the Los Angeles Chargers in Week 16, completing 12 of 22 passes for 204 yards and a touchdown in a 22–10 upset victory. The following week against fellow rookie quarterback Baker Mayfield and the Cleveland Browns, Jackson passed for 179 yards and rushed for two touchdowns on 95 rushing yards, despite fumbling a third potential touchdown at the goal line, as the Ravens beat the Browns 26–24 to clinch the AFC North title. In the seven regular season games in which Jackson had started, the Ravens went 6–1 to close out the 2018 season. Overall, he finished with 1,201 passing yards, six passing touchdowns, and three interceptions. In addition, he led all quarterbacks with 695 rushing yards and added five rushing touchdowns.
Jackson became the youngest quarterback to ever start a post-season game when the Ravens faced off at home against the Chargers in a rematch during the Wild Card Round of the playoffs. Despite being held to just 25 passing yards at one point in the fourth quarter by a stout Chargers defense, Jackson then passed for two touchdowns in four minutes to bring the Ravens back from a 20-point deficit to within a touchdown. After forcing the Chargers to punt with less than a minute left, the Ravens had one last chance to win the game down six points, but Jackson was strip-sacked by Chargers linebacker Uchenna Nwosu. With the Chargers recovering the ball, the Ravens lost 23–17 and were knocked out of the playoffs. Jackson finished the game completing 14 of 29 passes for 194 yards, the two aforementioned touchdowns, and an interception while rushing for 54 yards, losing one fumble.
2019 season   
In the season-opener against the Miami Dolphins, Jackson went 17 of 20 for career-high 324 yards and five touchdowns, making him the youngest quarterback to achieve a perfect passer rating in the 59–10 victory. He was named AFC Offensive Player of the Week due to his spectacular performance. During Week 2 against the Arizona Cardinals, Jackson rushed for 120 yards and threw for 272 yards and two touchdowns as the Ravens won by a score of 23–17. The two touchdown passes set the Ravens' franchise record for the most touchdown passes in the team's first two games of a season. Jackson also became the first player in NFL history to pass for more than 250 yards and rush for 120 yards in one game. During Week 6 against the Cincinnati Bengals, Jackson finished with 236 passing yards, 152 rushing yards, and a rushing touchdown as the Ravens won 23-17. He also became the first player in NFL history to pass for more than 200 yards and rush for 150 yards in a regular-season game. During Week 7 against the Seattle Seahawks, Jackson finished with 143 passing yards and 116 rushing yards with a rushing touchdown as the Ravens won 30-16.
NFL statistics   
Regular season    
NFL records   
Most rushing attempts by a quarterback in a season: 147 
Youngest quarterback to ever start a playoff game: 21 years, 364 days 
Youngest quarterback to achieve a perfect passer rating: 22 years, 244 days 
First player to throw for at least 250 yards and rush for 100 yards with 3 touchdowns
About the Writer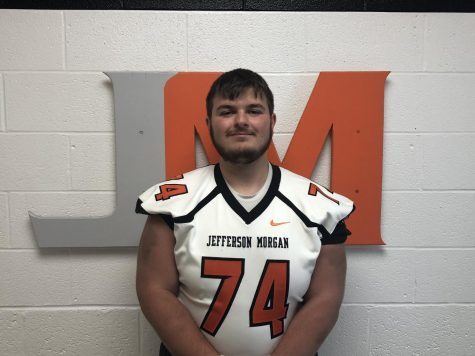 Brandon Lawrence, Editor
Brandon Lawrence is a junior and a second year journalism student.

Lawrence is a starting offensive linemen for the varsity football team and the JM...