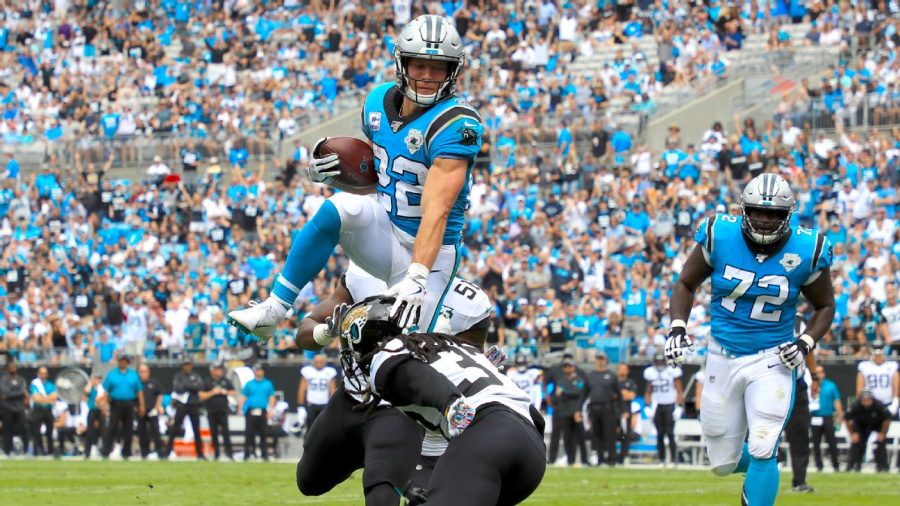 Christian McCaffrey is a running back and return specialist for the Carolina Panthers of the National Football League. He played college football at Stanford and was drafted by the Panthers with the eighth overall pick in the 2017 NFL Draft. As a sophomore in 2015, McCaffrey was the AP College Football Player of the Year and the runner-up for the Heisman Trophy. He holds the NCAA record for most all-purpose yards in a season with 3,864. McCaffrey holds the Carolina Panthers franchise record for most receptions by any player in a single season. 
Early life  
Christian Jackson McCaffrey was born in Castle Rock, Colorado, on June 7, 1996, the son of former Stanford and NFL wide receiver Ed McCaffrey and former Stanford soccer star Lisa McCaffrey. He attended Valor Christian High School in Highlands Ranch, Colorado. He played running back, wide receiver, cornerback, and punter. He broke numerous Colorado high school records including career total touchdowns, career all-purpose yards, career touchdown receptions, and single-season all-purpose yards. He was the Gatorade Football Player of the Year for Colorado in both 2012 and 2013. He also played basketball.
McCaffrey was also a standout sprinter on the track & field team. As a sophomore, he placed second in the 100-meter dash at the Mountain Vista Boulder Invitational with a career-best time of 10.75 seconds. As a junior in 2013, he finished sixth in the 100-meter dash and ninth in the 200-meter dash at the CHSAA State Meet.
Considered one of the best one hundred football players in his national high school class, he was selected as a 2014 U.S. Army All-American. He was rated by Rivals.com as a four-star recruit and was ranked as the third-best all-purpose back in his class and 77th best player overall. He committed to Stanford University to play college football.
College career  
2014 season   
McCaffrey played in all 13 games as a true freshman at Stanford, in 2014. In his collegiate debut, he had a 52-yard receiving touchdown against UC Davis. He finished the year with 300 rushing yards on 43 carries and 251 receiving yards on 17 receptions with two total touchdowns.
2015 season   
McCaffrey had a breakout sophomore season in 2015. He broke Barry Sanders's NCAA record of 3,250 all-purpose yards, finishing with 3,864. Sanders's son Barry J. Sanders coincidentally happened to be one of McCaffrey's teammates that year. McCaffrey ranked second in the nation with 2,019 rushing yards, becoming the first Stanford player to rush for 2,000 in a season. He also set numerous other Stanford records during the season including rushing yards in a single game and all-purpose yards in a game.
McCaffrey was a consensus All-American and was the Associated Press College Football Player of the Year, Pac-12 Player of the Year, and Paul Hornung Award, winner. He also finished second to Alabama's Derrick Henry in the 2015 Heisman Trophy voting.
During the 2016 Rose Bowl against Iowa, McCaffrey became the first player to rush for over 100 yards and have over 100 yards receiving in a Rose Bowl game. Overall, he set a new Rose Bowl record with 368 all-purpose yards, breaking the previous record set in 2012 by Wisconsin's Jared Abbrederis.
2016 season   
Through the end of the 2016 regular season, McCaffrey led the nation in all-purpose yards. He led the Pac-12 in rushing yards and ranked fourth in the nation in rushing yards per game. After being injured during the Cardinal's 42–16 loss to Washington State on October 8, McCaffrey sat out for the team's 17–10 victory in the 2016 edition of Notre Dame-Stanford rivalry the following week. McCaffrey set a Stanford single-game rushing record with 284 rushing yards against California. McCaffrey was named to the 2016 All-Pac-12 first team and was named the CoSIDA Academic All-American of the Year. After the season, he decided to enter the 2017 NFL Draft.
On December 19, McCaffrey announced he would not participate in the team's Sun Bowl game against North Carolina, opting to skip the game to prepare for the NFL Draft. His decision was met with mixed reactions; supporters agreed it was a smart decision, while those opposing considered the move selfish, and potentially detrimental to college football should other players follow suit. Radio host Mike Greenberg, in defense of McCaffrey, said, "Calling Christian McCaffrey a quitter for skipping an exhibition game to prepare for his career is the height of just not getting it."
The Carolina Panthers selected McCaffrey in the first round with the eighth overall pick in the 2017 NFL Draft. He was the second running back selected in that year's draft. Only Leonard Fournette went before him with the fourth overall pick.
On May 4, 2017, the Carolina Panthers signed McCaffrey to a four-year, $17.2 million contract with a signing bonus of $10.7 million.
2017 season: Rookie year   
McCaffrey made his NFL season debut in the Panthers' season-opener against the San Francisco 49ers and recorded 47 rushing yards, 38 receiving yards, and a lost fumble in a 23–3 victory. In Week 3, against the New Orleans Saints, he had nine receptions for 101 yards. In Week 5 against the Detroit Lions, McCaffrey scored his first career touchdown on a six-yard shovel pass from quarterback Cam Newton. In Week 9, against the Atlanta Falcons, he scored his first career rushing touchdown on a four-yard rush in the second quarter. In the team's Monday Night Football win over the Miami Dolphins, McCaffrey scored twice–one rushing and one receiving–and totaled 50 yards. In Week 15, in a victory over the Green Bay Packers, McCaffrey brought his season total to 73 catches and five receiving touchdowns, being the only rookie running back in NFL history with at least 70 receptions and five touchdown catches before being joined by Alvin Kamara later in the season. The following week, against the Tampa Bay Buccaneers, McCaffrey brought his catch total to 75, breaking the Panthers rookie record of 74 set by Kelvin Benjamin. He finished his rookie season with 435 rushing yards, two rushing touchdowns, 80 receptions, 651 receiving yards, and five receiving touchdowns. The Panthers made the playoffs as the #5-seed. In the Wild Card Round against the New Orleans Saints, he had 16 rushing yards, six receptions, 101 receiving yards, and one receiving touchdown in the 31–26 loss.
2018 season   
In Week 2, against the Atlanta Falcons, McCaffrey recorded a career-high 14 receptions for 102 receiving yards to go along with 37 rushing yards in the 31–24 loss. In Week 3, against the Cincinnati Bengals, he had 28 carries for a career-high 184 rushing yards in the 31–21 victory. Though limited in yardage for much of the middle of the season, from Weeks 8–10 McCaffrey compiled seven touchdowns in three games, including all of Carolina's scores in a 52–21 loss to Pittsburgh. On November 25, 2018, McCaffrey became the first Panther ever to have over 100 yards rushing and receiving in the same game. He had 125 yards rushing and 112 yards receiving in a loss to the Seattle Seahawks. The 237 yards set a Panthers franchise record for most yards from scrimmage in a game. He also was the first player since Arian Foster in 2011 to have 100+ yards and a touchdown both rushing and receiving, and the only player with 10+ receptions in such a game. During Week 15, in a Monday Night Football showdown against the 11–2 Saints, McCaffrey threw a 50-yard touchdown pass on 4th and 2 to Chris Manhertz. With 50 rushings, 50 receiving and 50 passing yards, he joined Walter Payton and Gale Sayers as the only others to achieve this. During Week 16 against the Atlanta Falcons, McCaffrey broke Matt Forte's record for most receptions by a running back in a single season, finishing with 101 rushing yards and 77 receiving yards as the Panthers lost 10–24. With the Panthers' eliminated from the playoffs, he had a limited role in the Week 17 victory over the New Orleans Saints with 40 total yards. Overall, he finished the 2018 season with 1,098 rushing yards, seven rushing touchdowns, 107 receptions, 867 receiving yards, and six receiving touchdowns. With the opposite of a Sophomore slump, McCaffrey became the Panthers franchise record holder of all-purpose yards in a season with 1,965.
2019 season   
In Week 1 against the Los Angeles Rams, McCaffrey rushed 19 times for 128 yards and two touchdowns and caught 10 passes for 81 yards as the Panthers lost 27-30. He played every offensive snap and became the first player to post 10 or more receptions and 120 or more rushing yards in two career games. In Week 3 against the Arizona Cardinals, McCaffrey rushed 24 times for 153 yards with a career-long 76-yard touchdown and caught three passes for 35 yards as the Panthers won 38-20.
In Week 4 against the Houston Texans, McCaffrey rushed 27 times for 93 yards and 1 touchdown and 10 passes for 86 yards in the 16-10 win. In the game, McCaffrey generated 179 yards of offense while the rest of his team only generated 118 yards of offense. During Week 5 against the Jacksonville Jaguars, McCaffrey bested his career-long rushing touchdown set in Week 3 with an 84-yard touchdown run. This also set a Panthers record for the longest touchdown run. He finished with 176 rushing yards and 2 rushing touchdowns along with 61 receiving yards and 1 receiving touchdown, bringing it to 237 total yards as the Panthers won 34-27. 
In week 6 against the Tampa Bay Buccaneers, McCaffrey rushed 22 times for 31 yards and 1 touchdown and caught 4 passes for 26 yards and 1 touchdown in the 37-26 win. During Week 9 against the Tennessee Titans, McCaffrey finished with 146 rushing yards, 20 receiving yards, and 3 total touchdowns as the Panthers won 30-20.