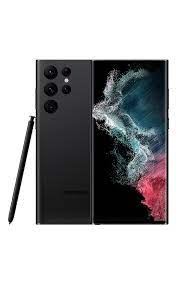 The Samsung Galaxy S22 Ultra was released February 25th at a starting price of $1,199.
The Samsung Galaxy S22 Ultra has a faster S Pen built in compared to the other phones. The phone also has a super bright display and the camera offers better low light performance. The design of the sing is sleek has a faster 45w charging. The S pen is more responsive, as Samsung made it 70% faster with less latency. The display is 6.8 inch dynamic and weighs about 8 ounces. The colors are phantom black, phantom white, burgundy and green. The Galaxy S22 Ultra's biggest upgrades come with its cameras, as Samsung is shooting to overtake the iPhone 13 max pro and Google Pixel 6 pro as the best camera phone with the help of a raft of upgrades. These include a bigger main sensor for better low-light photos, an AI-boosted portrait mode and a new super clear lens. Samsung is promising five years of update support and four years of major OS updates, so this flagship should be able to last you a long time. The phone has a little over 10 hours of endurance in our web surfing battery test. The Galaxy S22 Ultra is protected by an armor aluminum frame and Gorilla Glass Victus back, and yet it's lighter than the iPhone 13 Pro Max without a lame notch. Some may not dig the curved display, though.
The phone does have a couple downsides though. The phone is very pricey. The phone also has less RAM than the previous model and the phone has a shorter battery life compared to the S21 Ultra.
I think that this phone will sell well if people do not care about prices. The phone does have very good features and mutliple upgrades compared to the older phones. If people do not care about prices then this is the phone for you. I think if they did lower the price then the phone would sell better.