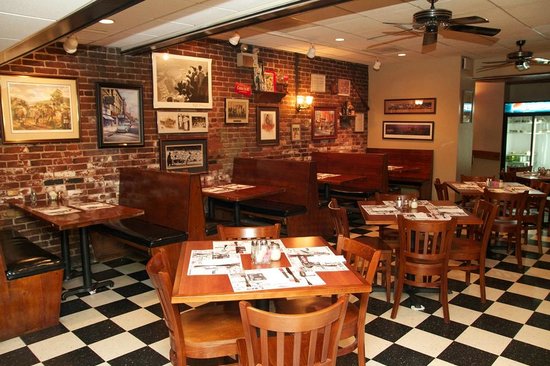 The Union Grill opened in 1967 by the Flynn family and is now owned by Michael Flynn. The Union Grill is an Italian-American restaurant. 
The Union Grill sits at a corner in Washington, Pennsylvania where you take outside steps  down where you can then enter the restaurant. The building is old fashioned and is built out of brick, but when you enter the restaurant it is very open and filled with artifacts and paintings. The Union Grill has booths and tables and a banquet area which you can rent out for birthdays or other special occasions. 
I visited the Union Grill multiple times about a year ago with my family and friends. For my appetizer, I had wedding soup with the free bread they give you, and for the entree, I had a Chicken Fettuccine Alfredo. I have also enjoyed the Chicken Parmigiana,  their signature chicken breast, topped with marinara sauce and provolone cheese with a side of spaghetti noodles. 
The times I have been to the Union Grill everyone's food has looked delicious and has tasted very good. The service is very top notch and the waiters are always doing something for the customers and always helping the restaurant. The waiters at the restaurant once offered my family the banquet area for no charge because of the long wait that we would have to go through. The menu has a variety of options with different price points.  The food and drinks can be pricey depending on what you order.
I think that everyone should go and try the Union Grill because the experiences I have had there have always been good.  It is a great place to enjoy a meal with family and friends. Also, a great place for birthday parties and for other special occasions.