Primanti Bros Restaurant Review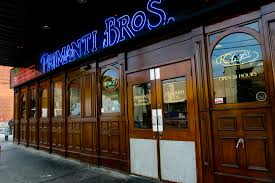 Promanti Bros is located in Morgantown wv it has a wide variety of dishes on there menu that adults and children would like.
Primanti Brothers s a chain of sandwich shops in the eastern United States, founded in and most closely associated with, as a cultural icon of, Pittsburgh and Founded in 1933 The original shop is located at 46 18th Street in Pittsburgh's Strip District, a busy area along the Allegheny River that was once filled with factories, warehouses, and produce yards. According to the restaurant, Joe Primanti, born in suburban Wilmerding, Pennsylvania, invented the sandwich during the Great Depression. His brothers, Dick and Stanley, later joined him. The Primantis opened their diner at Smallman Street and 18th Street in the Strip District and served the late-night and early-morning workers who were unloading fish, fruits, and vegetables.
On the menu there is 13 different category the pricing ranges from $1 to $23.  The most liked appetizer is the colossal hand cut onion ring.