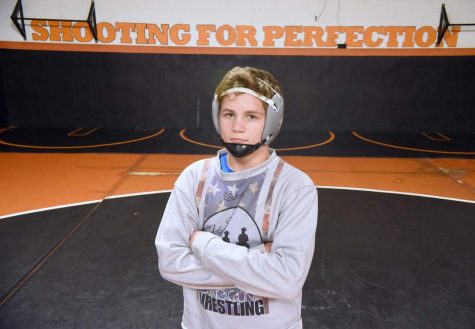 Gavin Teasdale is a Senior and a second year Journalism student.
Gavin participates in many things but the main thing he participates in is wrestling. He is committed to wrestle for Penn State University. He has many other activities he participates in such as art club and a part of the wrestling team. Other hobbies and interests that he does are Jet skiing and golf. That is all he pretty much does in the summer.
Teasdale likes to play corn hole and swim on his free time.
Gavin Teasdale, Editor
Mar 22, 2018

Red Cross Rockets

(Story)

Mar 20, 2018
Mar 16, 2018

Wrestling Season Comes to an End

(Story)

Mar 02, 2018

Rockets Advance One to Hershey

(Story)

Feb 23, 2018

Rockets Take Three to Regionals

(Story)

Feb 16, 2018

Rocketing into Sections and Wpials

(Story)

Feb 16, 2018

Michael Ludrosky- Athlete Biography

(Story)

Feb 14, 2018
Feb 14, 2018

Kolin Walker- Athlete Biography

(Story)

Jan 31, 2018
Jan 24, 2018

Wrestling Playoff Run

(Story)

Dec 18, 2017

Night in the Lights

(Story)

Dec 15, 2017

Controversy in Pittsburgh

(Story)

Dec 12, 2017

Lange, Walker and Teasdale Place at Gateway

(Story)

Dec 01, 2017

Senior Class Receives T-Shirts

(Story)

Nov 06, 2017

Terror Happening Everywhere

(Story)

Nov 06, 2017
Oct 19, 2017
Sep 19, 2017

Savannah Kramer – Athlete Biography

(Story)

Sep 19, 2017

Jalen Torres – Athlete Biography

(Story)

Sep 19, 2017

Joshua Agnew- Athlete Biography

(Story)

Sep 19, 2017

Hannah Shaum – Athlete Biography

(Story)

Sep 15, 2017
Apr 27, 2017

Isaac Dean- Athlete Biography

(Story)

Feb 23, 2017

The Night That Never Happened

(Story)

Jan 19, 2017

Josh Agnew – Athlete Biography

(Story)

Jan 13, 2017

Featured Writer – Kat Taggart

(Story)

Sep 23, 2016

Carrington Teasdale – Athlete Biography

(Story)