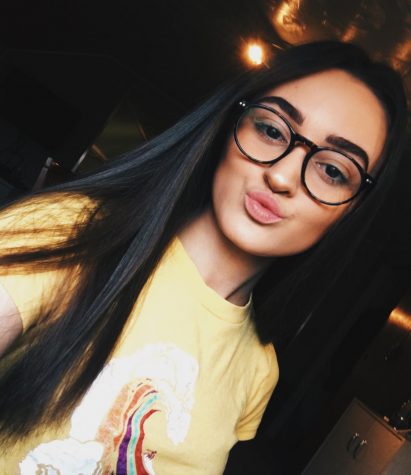 Tyler Woolen is a senior and a fourth year Journalism student.
She participates in Track and Field and is also a member of Leo Club and the SAAD Club.
Her hobbies include writing, going to concerts, and running.
Woolen enjoys being with her boyfriend, hanging out with friends, and driving everywhere.
She also enjoys watching 80's movies and reading IT.
Woolen is looking forward into studying Clinical Psychology and Sociology after high school and is hoping to have a career either one of those fields.
Woolen also has hopes into going to college at either Auburn University, Clemson University or Slippery Rock University.
Tyler Woolen, Editor-in-chief
May 23, 2019

Taking The College Route

(Story)

May 23, 2019

Final Goodbye to My High School Career

(Story)

May 21, 2019

Girls Summer Cardio

(Story)

May 09, 2019

Last Day For Diploma Requests

(Story)

May 03, 2019

Madelyn VanDivner Named Jefferson-Morgan Centennial Lions Club May Student of the Month

(Story)

May 01, 2019

GCCTC's Only Female Welder is JM Student

(Story)

Apr 30, 2019
Apr 25, 2019

Senior Banquet RSVP – Due April 30th!

(Story)

Apr 17, 2019

Grand March: Is It in or Out?

(Story)

Apr 10, 2019

Out of High School and into Real Life

(Story)

Apr 09, 2019

Big Brothers Big Sisters

(Story)

Apr 02, 2019

Greene County Reading Competition 2019

(Story)

Apr 01, 2019

Adulting Day 2019

(Story)

Mar 28, 2019

Leo Club Meeting & Announcements

(Story)

Mar 20, 2019

Summer Work Through Southwest Training

(Story)

Mar 15, 2019

Jeffree Star Announces New Makeup Collection: Blue Blood

(Story)

Mar 14, 2019

Sign Up For Adulting Day!

(Story)

Mar 11, 2019

Juniors Headed To The Career Fair at Waynesburg University

(Story)

Mar 05, 2019

Girls Cardio Lifting With Mrs. Kniha

(Story)

Mar 01, 2019

Finally Leaving A Toxic Friendship

(Story)

Feb 26, 2019

Deadline Approaches for PASR, EGST, and Wind Ridge Engineering Scholarships

(Story)

Feb 22, 2019

Engineer the Future event at Carnegie Science Center

(Story)

Feb 19, 2019

Electrical Apprenticeship Opportunity

(Story)

Feb 15, 2019

Early Prom Dress Shopping

(Story)

Feb 14, 2019

Rifle Team Taking 4th Place in WPIALS!

(Story)

Feb 13, 2019

Brynn Boyd – Athlete Biography

(Story)

Feb 13, 2019

Alex Lange – Athlete Biography

(Story)

Feb 13, 2019

Savannah Clark – Athlete Biography

(Story)

Feb 13, 2019

Zoey Stull – Athlete Biography

(Story)

Feb 12, 2019

DVSSP Hosts Teen Dating Violence Video Contest

(Story)

Feb 06, 2019

Waynesburg University Journalism Camp for Juniors and Graduation Seniors

(Story)

Jan 24, 2019

Julianna Kline Named Jefferson-Morgan Centennial Lions Club January Student of the Month

(Story)

Jan 21, 2019

After School Tutoring

(Story)

Jan 16, 2019

The Compass Program

(Story)

Jan 16, 2019

Waynesburg University Mock Crime Scene Day

(Story)

Jan 15, 2019

Enrichment Two Week Trial

(Story)

Jan 07, 2019

Taking A Gap Year After High School

(Story)

Dec 20, 2018

Joelle Pahanish Named Jefferson-Morgan Centennial Lions Club December Student of the Month

(Story)

Dec 11, 2018

Brandy Melville: "One Size Fits Most"

(Story)

Dec 11, 2018

A Sparkling Christmas Program

(Story)

Dec 10, 2018

National Honor Society Inducts Six New Members

(Story)

Dec 10, 2018

National Honor Society Induction Ceremony

(Story)

Dec 03, 2018

Healthy Habits For Renewing Oneself

(Story)

Nov 29, 2018

Brittany Nelson Named Jefferson-Morgan Centennial Lions Club November Student of the Month

(Story)

Nov 20, 2018

Abigail Ankrom Crowned CB Queen

(Story)

Nov 16, 2018

Sucking The Poison Out: Cutting Out Toxic People

(Story)

Nov 13, 2018

Children's Grief Awareness Day

(Story)

Nov 09, 2018

Student Wellness Day

(Story)

Nov 06, 2018
Nov 02, 2018

Reinventing Yourself

(Story)

Oct 30, 2018

Jefferson-Morgan's JROTC Program

(Story)

Oct 26, 2018

Decorating The Seniors Houses

(Story)

Oct 23, 2018

Pratt Institute – Brooklyn, New York

(Story)

Oct 19, 2018

Toxic Friendships

(Story)

Oct 15, 2018

Homecoming Queen Voting 

(Story)

Oct 15, 2018

JM Leos Keep America Beautiful

(Story)

Oct 12, 2018

LEO Club Sign Ups

(Story)

Oct 10, 2018

Volleyball Senior Night 2018

(Story)

Oct 04, 2018

Hagan Scholarship Foundation

(Story)

Oct 03, 2018

Spooky Movies & Shows

(Story)

Sep 28, 2018

JM Band Earns First Place at Buckwheat Festival

(Story)

Sep 26, 2018

Mount Aloysius College Open House

(Story)

Sep 20, 2018

To All the Boys I've Loved Before – Movie Review

(Story)

Sep 17, 2018

Makayla McNett – Athlete Biography

(Story)

Sep 17, 2018

Athlete Biography – Makenzie Wright

(Story)

Sep 14, 2018

Jefferson Javas Grand Opening

(Story)

May 22, 2018
May 10, 2018

Not The Victims Fault: Sexual Assault

(Story)

May 01, 2018
Apr 27, 2018

Dating: The 60's VS Now

(Story)

Apr 23, 2018

Photoshop – The Effect on Teen Self-Esteem

(Story)

Apr 10, 2018

Student Council Petitions

(Story)

Apr 06, 2018

Roadside Clean Up

(Story)

Apr 04, 2018

Allie Royer – Athlete Biography

(Story)

Mar 23, 2018

Savannah Saesan Named Clarksville Lions Club March Student of the Month

(Story)

Mar 22, 2018

The 2000's – The Millenniums

(Story)

Mar 22, 2018

Color Guard, Majorette, Honor Guard, & Drum Major Sign-Ups!

(Story)

Mar 16, 2018

The 1990's – Beanie Babies & More

(Story)

Mar 15, 2018

Alice Training Practice

(Story)

Mar 07, 2018

Criminal Justice Academy

(Story)

Feb 28, 2018

1920's – The Roaring Twenties

(Story)

Feb 27, 2018

Congratulations to Gavin Teasdale!

(Story)

Feb 22, 2018

1930's – The Great Depression

(Story)

Feb 21, 2018

Teachers Wellness Day

(Story)

Feb 13, 2018

Gavin Wood – Athlete Biography

(Story)

Feb 12, 2018

Ending Winter Pep-Rally

(Story)

Feb 08, 2018

1940's – WWII & Heartthrobs

(Story)

Feb 06, 2018

Rifle – Section Champs

(Story)

Jan 31, 2018

Garrett Joins 1,000 Point Club

(Story)

Jan 30, 2018

1970's – Fight For Equality

(Story)

Jan 24, 2018
Jan 23, 2018

The 1960's – Civil Rights Era

(Story)

Jan 18, 2018
Jan 15, 2018

School Play – Bye Bye Birdie

(Story)

Jan 15, 2018
Jan 11, 2018

Thinking Further Ahead

(Story)

Jan 11, 2018

Alex Lange – Athlete Biography

(Story)

Jan 11, 2018

Sadie Fowler – Athlete Biography

(Story)

Jan 11, 2018

Devin Stoneking – Athlete Biography

(Story)

Jan 11, 2018

Gavin Teasdale – Athlete Biography

(Story)

Dec 19, 2017

Traveling During The Holidays

(Story)

Dec 15, 2017

Heartbreak During The Holidays

(Story)

Dec 13, 2017

Christmas Candy Grams

(Story)

Dec 11, 2017

Winter Activities

(Story)

Dec 08, 2017

Winter Spirit Week

(Story)

Dec 08, 2017

Stressful Holidays

(Story)

Nov 30, 2017

FAFSA Completion Day

(Story)

Nov 21, 2017

Track and Field Orders

(Story)

Nov 17, 2017
Nov 15, 2017

Prime Parking Spot

(Story)

Nov 08, 2017

Election Day in Greene County

(Story)

Nov 07, 2017
Nov 03, 2017

Stranger Things 2

(Story)

Oct 31, 2017

Winter Sports Physicals

(Story)

Oct 27, 2017
Oct 23, 2017

Last Football Game

(Story)

Oct 20, 2017

Halloween Festivities

(Story)

Oct 17, 2017

Breast Cancer Awareness

(Story)

Oct 13, 2017
Oct 13, 2017

Scary Movie Galore

(Story)

Oct 10, 2017

Keep America Beautiful – Roadside Cleanup

(Story)

Oct 03, 2017

Stomp Out Bullying

(Story)

Oct 03, 2017
Oct 02, 2017
Sep 29, 2017

Welcoming October!

(Story)

Sep 26, 2017
Sep 19, 2017

Madelyn VanDivner – Athlete Biography

(Story)

Sep 19, 2017

Kaitlin Wood – Athlete Biography

(Story)

Sep 19, 2017

Makenzie Wright – Athlete Biography

(Story)

Sep 15, 2017
Sep 11, 2017
Sep 11, 2017

Broken Friendships

(Story)

May 30, 2017

Supporting Our Veterans

(Story)

May 25, 2017
May 24, 2017

Vacation to Hilton Head

(Story)

May 17, 2017

Ending Track and Field

(Story)

May 12, 2017

Neighborhood or Disney World?

(Story)

May 09, 2017

Courtyard Clean Up

(Story)

May 05, 2017

Short Distance Running Events in Track and Field

(Story)

Apr 26, 2017

Spring Break 2017

(Story)

Apr 21, 2017
Apr 18, 2017

Jefferson-Morgan's New Snapchat Filter

(Story)

Apr 07, 2017
Apr 06, 2017

Makayla McNett – Athlete Biography

(Story)

Apr 05, 2017

Discovering New Things

(Story)

Mar 31, 2017

JM Track and Field Seeks Donations

(Story)

Mar 23, 2017

Track and Field Today

(Story)

Mar 23, 2017

Behind the Making of Track and Field

(Story)

Mar 23, 2017

Gavin Teasdale; 3-time PIAA Wrestling Champion

(Story)

Mar 22, 2017
Mar 15, 2017
Mar 08, 2017

Broken Hearts and Broken Relationships

(Story)

Mar 06, 2017

Welcoming Señora McCrory!

(Story)

Mar 02, 2017
Feb 23, 2017

Chief Keef Concert

(Story)

Feb 17, 2017

Can't Buy Me Love

(Story)

Feb 16, 2017

Valentine's Day Thoughts

(Story)

Feb 09, 2017

Kenyan Closure of Largest Refugee Camp in the World

(Story)

Feb 02, 2017

Trump's Worst Phone Call

(Story)

Feb 01, 2017

Kylie Jenner's Valentine's Day Collection

(Story)

Jan 31, 2017

University in St. Louis Offering a Course on Kanye West

(Story)

Jan 26, 2017

Inspirational Women's March

(Story)

Jan 18, 2017

Long Distance Friendship

(Story)

Jan 12, 2017

Gavin Wood – Athlete Biography

(Story)

Jan 12, 2017

Jalen Torres – Athlete Biography

(Story)

Jan 11, 2017

Moving Away from Home

(Story)

Dec 15, 2016

Christmas Themed Lip Dub

(Story)

Dec 14, 2016
Dec 07, 2016

Walking Around the City

(Story)

Nov 23, 2016
Nov 18, 2016

Thanksgiving Break

(Story)

Nov 18, 2016

Thanksgiving Mania

(Story)

Nov 09, 2016

Breaking The Distance

(Story)

Nov 02, 2016
Oct 26, 2016

Hispanic Dance in Pittsburgh

(Story)

Oct 24, 2016

American Horror Story

(Story)

Oct 19, 2016

Adventure of a Lifetime

(Story)

Oct 12, 2016

On The Hunt For The Right Dress

(Story)

Oct 10, 2016
Sep 28, 2016
Sep 23, 2016

Justin Maddich – Athlete Biography

(Story)

Sep 23, 2016

Michael Ludrosky – Athlete Biography

(Story)

Sep 22, 2016

Illuminate Experience

(Story)

Sep 21, 2016

Foreign Language Club

(Story)

Sep 14, 2016

Positives In Social Media

(Story)

Sep 07, 2016

Traveling Within Yourself

(Story)

May 10, 2016

Emotionally Wrecked

(Story)

Apr 26, 2016

Taking Life To The Next Level

(Story)

Apr 25, 2016

Erin Confortini – Athlete Biography

(Story)

Feb 19, 2016

Learning New Things

(Story)

Feb 05, 2016

A Change Schools Need

(Story)

Dec 14, 2015

12 Weeks of School

(Story)

Dec 11, 2015

A Night in New York

(Story)

Dec 11, 2015

New Years Resolution

(Story)

Dec 03, 2015

Justin Maddich – Athlete Biography

(Story)

Nov 24, 2015

Nikki Venick – Athlete Biography

(Story)

Nov 16, 2015

Tyler Woolen – Contributor

(Story)

Nov 13, 2015
Nov 13, 2015
Oct 29, 2015

Teenagers Struggle with Stress Too

(Story)

Oct 19, 2015

Perspective Matters

(Story)