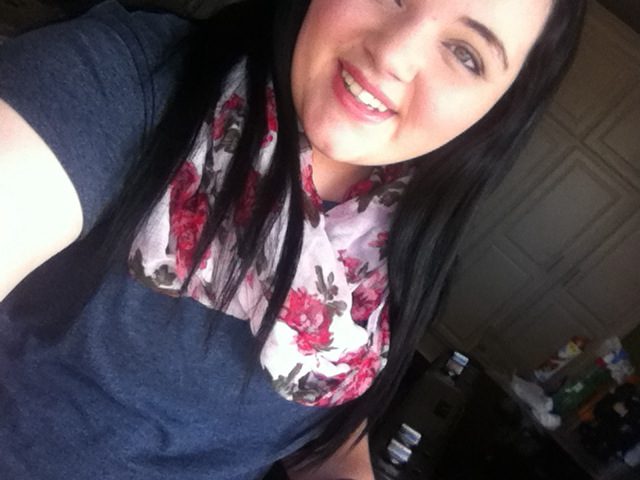 Gwendolyn Stacy is a senior and third year Journalism student.
Gwendolyn served as the former president of French Club, and the Head Editor-and-Chief of the Waynesburg Central High School Oracle. She also participated in Art Club, Prom Committee, Stage/Tech Crew, as well as Alpha Beta Club.
Gwendolyn is Editor of Jefferson Morgan yearbook, as well as Editor-and-Chief of the Rocket Reporter.
Gwendolyn's hobbies include painting, makeup, fashion, photography, cooking, extreme organization, and writing. She also enjoys spending time with her family and friends, as well as her basset hound, Aurora.
Gwendolyn Stacy, Editor-in-Chief
May 24, 2017

Farewell J-M, Thanks for Having Me

(Story)

May 12, 2017

Superintendent Donna Furnier: Forever in J-M

(Story)

May 02, 2017
Apr 27, 2017

Erin Confortini Named Clarksville Lions Club May Student of the Month

(Story)

Apr 21, 2017

13 Reasons Why… Fans Hope For a Second Season

(Story)

Apr 18, 2017

Miss Rain Day 2017

(Story)

Apr 06, 2017

Emma Frank Named Clarksville Lions Club April Student of the Month

(Story)

Mar 31, 2017

How To: Watercolor Paint

(Story)

Mar 30, 2017

Nicholas Headley Named Clarksville Lions Club March Student of the Month

(Story)

Mar 27, 2017

Lady Gaga to Coachella?!

(Story)

Mar 17, 2017
Mar 14, 2017

Dance Marathon, Rescheduled

(Story)

Mar 06, 2017

Prom in the Near Future.

(Story)

Feb 24, 2017

Black History Month

(Story)

Feb 24, 2017

Follow Up On, American Horror Story: Trump

(Story)

Feb 21, 2017

They're Creepy and They're Kooky; They're Coming to JM

(Story)

Feb 17, 2017

The Raven; NASA's Newest Toy

(Story)

Feb 16, 2017

American Horror Story: Trump

(Story)

Feb 14, 2017

Puzzling Art Work

(Story)

Feb 13, 2017

Lady Gaga Response to Body Shame

(Story)

Feb 08, 2017

Rita Hayworth and Shawshank Redemption Book Review

(Story)

Feb 07, 2017
Feb 03, 2017

Prom Preparations- Tips Guaranteed to Help You Through the Big Night

(Story)

Feb 02, 2017

Jamie Lawrence Named Clarksville Lions Club February Student of the Month

(Story)

Jan 31, 2017

Library Club Fundraiser

(Story)

Jan 26, 2017

Trump Doing What He Promised?

(Story)

Jan 24, 2017
Jan 22, 2017

Eva Humphreys Named Clarksville Lions Club January Student of the Month

(Story)

Jan 18, 2017

Armond Jacobs – Athlete Biography

(Story)

Jan 18, 2017

Makenzie Wright – Athlete Biography

(Story)

Jan 13, 2017

Societal Views on Social Media

(Story)

Jan 09, 2017

New Years Resolutions and How to Keep Them

(Story)

Jan 04, 2017
Dec 16, 2016

A Donation of Chance

(Story)

Dec 14, 2016
Dec 12, 2016

Keon Dohn Named Clarksville Lions Club December Student of the Month

(Story)

Dec 12, 2016

Michael Pochron Named Clarksville Lions Club Student of the Month for November

(Story)

Dec 09, 2016

Online Shopping This Season; 4 Tips to Help You Along The Way

(Story)

Dec 06, 2016

Art Show Preparations

(Story)

Dec 02, 2016

Black Friday Gun Sales Spike To Record High

(Story)

Dec 01, 2016

Winter is Approaching Fast

(Story)

Nov 22, 2016
Nov 18, 2016

Super Moon, Super Beautiful

(Story)

Nov 16, 2016
Nov 10, 2016

JM Roadside Cleanup

(Story)

Nov 07, 2016

The New Wonder Woman Trailer

(Story)

Oct 28, 2016

Moon Madness, Real or Fake?

(Story)

Oct 25, 2016
Oct 21, 2016

Halloween Purge – Rumors or Real?

(Story)

Oct 14, 2016

Self Identification in America

(Story)

Oct 11, 2016

Graduation Information

(Story)

Oct 04, 2016

National Hispanic American Heritage

(Story)

Sep 30, 2016

Why the Ban on Halloween is Alarming Parents

(Story)

Sep 26, 2016

Stranger than Fiction Movie Review

(Story)

Sep 23, 2016

Is That Late Night Text Worth It?

(Story)

Sep 22, 2016

Gage Clark – Athlete Biography

(Story)

Sep 22, 2016

Megan Pecjak – Athlete Biography

(Story)

Sep 20, 2016

Artist Of The Week

(Story)

Sep 16, 2016

Emotional Roadshow Review

(Story)

Sep 13, 2016

Bigger and Better

(Story)

Sep 09, 2016

New School, New You.

(Story)