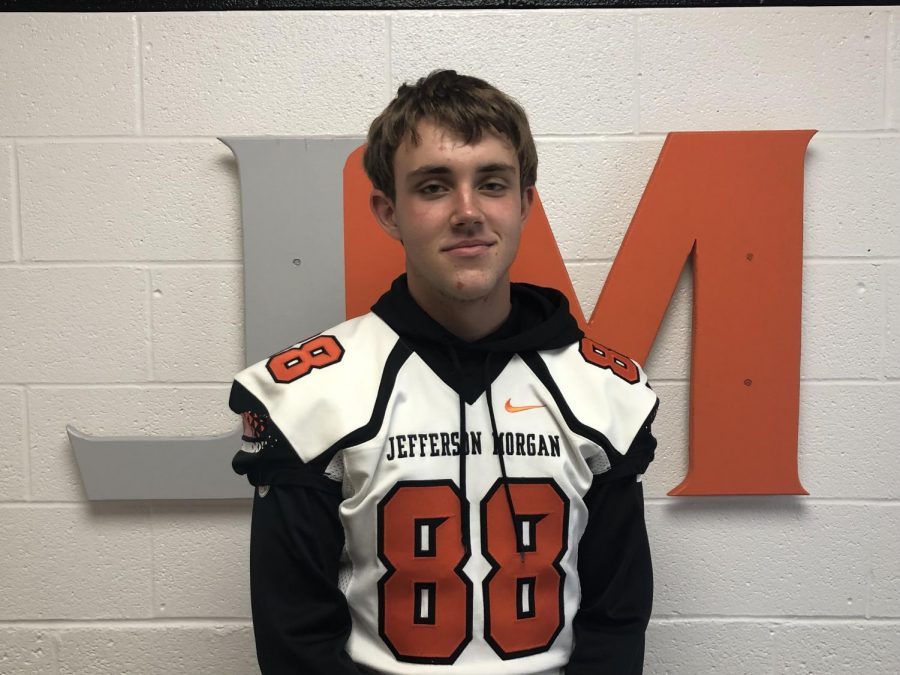 Joshua Wise is a sophomore and a second year journalism student.
Wise plays football and basketball for the varsity teams.
In his spare time, he plays basketball and hangs out with friends. He also likes to lift whenever he can. His favorite thing to do on a rainy day is play Uno with his sister.
Joshua Wise, Editor
Mar 16, 2020

Coronavirus has struck the NBA

(Story)

Mar 10, 2020

Kambrieigha Dudas Named Jefferson-Morgan Centennial Lions Club March Student of the Month

(Story)

Mar 09, 2020

Post All Star Phenoms

(Story)

Mar 09, 2020

Grease Hits the Stage

(Story)

Mar 02, 2020

The NBA All Star Weekend Unfolds

(Story)

Mar 02, 2020

Jefferson Javas Closed on Friday, February 28th.

(Story)

Mar 02, 2020

The New "FIDs Day"

(Story)

Feb 20, 2020

New addition in the hallways of Jefferson-Morgan

(Story)

Feb 06, 2020

Student Council Flower Sale

(Story)

Jan 27, 2020

Lilian Ladisic Named Jefferson-Morgan Centennial Lions Club January Student of The Month

(Story)

Jan 24, 2020

Tyler Kniha – Athlete Biography

(Story)

Jan 24, 2020

Non-Section Boys Basketball Showdown

(Story)

Jan 08, 2020

Basketball Double Header Yields Double Defeat

(Story)

Dec 19, 2019

Surprises of the NBA

(Story)

Dec 19, 2019

Christmas Tournament for the Boys Basketball Team

(Story)

Dec 19, 2019

Senior Cole Tretinik Injured Before Game Last Friday

(Story)

Dec 10, 2019

Varsity Boy's Basketball Team Travels to Carlynton For Tip Off Tournament

(Story)

Dec 10, 2019

Jefferson-Morgan Rockets Take on the Mapletown Maples

(Story)

Dec 06, 2019

The Disappointments of the NBA

(Story)

Dec 04, 2019

Light Up Night at JM

(Story)

Nov 26, 2019

JM's First Boy's Basketball Inner Squad Scrimmage

(Story)

Nov 21, 2019
Nov 13, 2019

Physical and Re-certification Forms

(Story)

Nov 07, 2019

Powder Puff Football

(Story)

Nov 04, 2019

Jefferson-Morgan Rockets Midget Football team takes on Beth Center Bulldogs for Championship Game

(Story)

Oct 30, 2019

New Rule Changes Introduced In the NBA

(Story)

Oct 25, 2019

Lady Rockets Volleyball Team Suffer a Heart Breaking Loss

(Story)

Oct 23, 2019

Rockets Football Team Suffers a Hard Loss against the West Greene Pioneers

(Story)

Oct 18, 2019

Jefferson-Morgan Rockets Take on the West Greene Pioneers!!!

(Story)

Oct 18, 2019

Jefferson-Morgan Rockets vs. OLSH Chargers

(Story)

Sep 20, 2019

Kevin Teagarden – Athlete Biography

(Story)

Sep 18, 2019

Austin Geho – Athlete Biography

(Story)

Sep 16, 2019

Caden Maskil – Athlete Biography

(Story)

May 28, 2019

Seniors Final Walk

(Story)

May 23, 2019

Madison Wright – Athlete Biography

(Story)

May 20, 2019
May 01, 2019

Students Should Be Able To Leave Campus During Lunch

(Story)

Apr 30, 2019

Students Played Guitar for Lunch at JM

(Story)

Apr 10, 2019

Student Athletes and Time Management

(Story)

Mar 22, 2019

JM Hosts Friday Debate

(Story)

Mar 22, 2019

"Don't Drink The Water" Debuts

(Story)

Mar 22, 2019

Money Drive Results Are In!

(Story)

Mar 01, 2019

Spring Scheduling is Underway for 2019-2020 School Year

(Story)

Feb 25, 2019

Rifle Team Goes To WPIAL Championship

(Story)

Feb 11, 2019

Jefferson-Morgan Food Drive

(Story)

Feb 04, 2019

Jefferson-Morgan Boys Basketball Senior Night

(Story)

Sep 21, 2018

Maddie Van Divner – Athlete Biography

(Story)