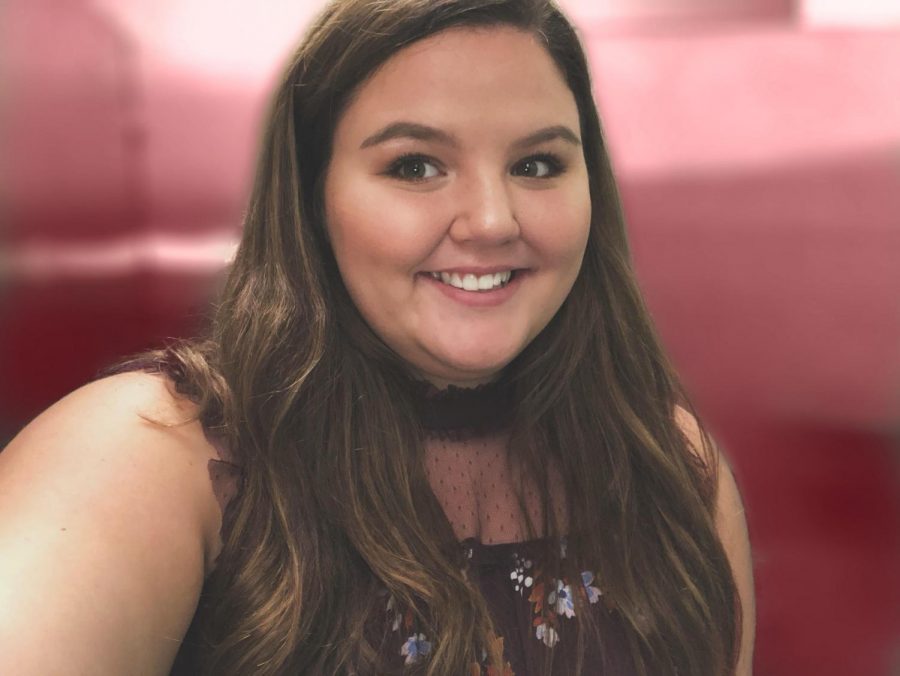 Makayla McNett is a senior and a fourth year Journalism student.
She is captain of the Jefferson-Morgan Varsity Cheerleading Squad, President of the Foreign Language Club, Vice President of Student Council, Editor of the Jeffersonian, member of the Leo Club, and is also involved in Big Brothers Big Sisters.
She is interested in literature and her hobbies include writing, art, and cosmetology.
McNett is planning to attend college after high school, and is not yet decided on a career.
Makayla McNett, Editor-in-chief
May 28, 2019

Jefferson-Morgan Prom

(Story)

May 28, 2019
May 15, 2019

Rockets Win First Playoff Game Against Rochester

(Story)

May 06, 2019

Prom Dress Shopping

(Story)

May 01, 2019

Fresh Prince of JM

(Story)

Apr 03, 2019

Spanish Club Plans Trip to Pitt Nationality Rooms

(Story)

Mar 28, 2019

The History of Prom

(Story)

Mar 22, 2019

CS Academy Class Programs Finch Robots

(Story)

Mar 20, 2019

Rockets Marketplace and Flea Market

(Story)

Mar 15, 2019

Jeffree Star Announces Release of "Blue Blood" Palette

(Story)

Mar 12, 2019

Braylee Pierce Named Jefferson-Morgan Centennial Lions Club February Student of the Month

(Story)

Mar 06, 2019

Lifting Students Visit Arnold Classic

(Story)

Mar 01, 2019

Tarte Releases Gen-Z Makeup Line Called "Sugar Rush"

(Story)

Feb 22, 2019

Middle and High School Students Participate in Engineer the Future at Carnegie Science Center

(Story)

Feb 15, 2019

Why Reading and Writing Reduces Stress

(Story)

Feb 12, 2019

Caden Maskil – Athlete Biography

(Story)

Feb 12, 2019

Jared Murray – Athlete Biography

(Story)

Feb 11, 2019

JM Switches to E-Hallpass

(Story)

Feb 06, 2019

Cal U Representative Meets with JM Seniors for Last Minute Applications

(Story)

Jan 25, 2019

The Start of the Second Semester

(Story)

Jan 23, 2019

JM Rocket Band Selling Fox's Pizza Coupon Books

(Story)

Jan 18, 2019

Kylie Jenner Creates New Blush, Bronzer, and Highlighter Formulas

(Story)

Jan 16, 2019

Celebration of Kyle Cratty's Life Planned for Thursday

(Story)

Jan 11, 2019

Adam Hobe and Carrington Teasdale Selected as Fall Herald-Standard Scholar-Athletes

(Story)

Jan 04, 2019

James Charles' Colaboration with Morphe Has Sold out Again

(Story)

Dec 19, 2018

Jordan Hess Named Jefferson-Morgan Centennial Lions Club December Student of the Month

(Story)

Dec 10, 2018

Ginger-Messages for Sale

(Story)

Dec 06, 2018

Waynesburg Christmas Parade

(Story)

Nov 29, 2018

Kaitlin Wood Named Jefferson-Morgan Centennial Lions Club November Student of the Month

(Story)

Nov 28, 2018

JM Food Drive Battle

(Story)

Nov 16, 2018

Christmas in Pittsburgh

(Story)

Nov 15, 2018

2018 Cinderella Ball

(Story)

Nov 13, 2018

Makenzie Wright Named Jefferson-Morgan Centennial Lions Club October Student of the Month

(Story)

Nov 09, 2018

Brynn Boyd Named Jefferson-Morgan Centennial Lions Club October Student of the Month

(Story)

Oct 29, 2018
Oct 24, 2018
Oct 22, 2018

Cameron J. Cernuska named Jefferson-Morgan Centennial Lions Club September Student of the Month

(Story)

Oct 22, 2018

Carrington Teasdale Named Jefferson-Morgan Centennial Lions Club September Student of the Month

(Story)

Oct 19, 2018

Sephora's Holiday Sale

(Story)

Oct 17, 2018

Homecoming Parade

(Story)

Oct 12, 2018
Oct 10, 2018

Middle School Students Attending 'Red Ribbon Week' Football Game

(Story)

Sep 28, 2018

JM Rocket Band Places 1st at Buckwheat Parade

(Story)

Sep 26, 2018

What's New at JM?

(Story)

Sep 25, 2018

Mock Crime Scene at Waynesburg University

(Story)

Sep 21, 2018

School/Study Tips

(Story)

Sep 17, 2018
Sep 13, 2018

Joelle Pahanish – Athlete Biography

(Story)

Aug 30, 2018
May 22, 2018
May 11, 2018

Should Students Read More?

(Story)

May 09, 2018

Biology 2 Classes Dissecting This Week

(Story)

Apr 27, 2018

Pinterest Makes Searching for Beauty Looks More Inclusive

(Story)

Apr 24, 2018

Cheerleading Sign Ups

(Story)

Apr 20, 2018

Is the Media Creating an Unrealistic Expectation of Women's Bodies?

(Story)

Apr 06, 2018

NHS Collecting Donations for Greene County Humane Society

(Story)

Apr 05, 2018

Rain Judy Named Jefferson-Morgan Centennial Lions Club April Student of the Month

(Story)

Apr 04, 2018

Brynn Boyd – Athlete Biography

(Story)

Mar 28, 2018

A.L.I.C.E Training

(Story)

Mar 22, 2018

Amazon Offering Beauty Samples

(Story)

Mar 20, 2018

J-M Band Sign Ups

(Story)

Mar 16, 2018

Ulta's 21 Days of Beauty

(Story)

Mar 15, 2018
Mar 12, 2018

JM To Host Lions Club Meeting

(Story)

Mar 12, 2018
Mar 01, 2018

JM to Host Opioid Awareness Presentation Tonight

(Story)

Feb 28, 2018

Athlete Biography – Justin Maddich

(Story)

Feb 20, 2018

Cal U Early Admit Program for Juniors and Seniors

(Story)

Feb 16, 2018

Josh Clites – Athlete Biography

(Story)

Feb 15, 2018

Peyton Knoble named Clarksville Lions Club February Student of the Month

(Story)

Feb 06, 2018
Feb 02, 2018

How to Get An All over Glow

(Story)

Jan 31, 2018

J-M's Engineering Team Wins First Place at STEAM Competition

(Story)

Jan 26, 2018

Can McDonald's French Fries Help with Hair Regrowth?

(Story)

Jan 23, 2018

JM Cheerleader's Volunteer to Help With Lumber Ladies Fundraiser

(Story)

Jan 18, 2018

Josh Agnew – Athlete Biography

(Story)

Jan 18, 2018

Katey Wolfe – Athlete Biography

(Story)

Jan 18, 2018

Emily Gipe – Athlete Biography

(Story)

Jan 18, 2018

Factors to Consider When Choosing a College

(Story)

Jan 16, 2018
Jan 12, 2018

Must-Have Makeup Products

(Story)

Jan 11, 2018

Brynn Boyd – Athlete Biography

(Story)

Jan 09, 2018

The End of the Second Nine Weeks

(Story)

Dec 20, 2017

Study Tips That Work

(Story)

Dec 18, 2017
Dec 15, 2017

Christmas Activities Around Pittsburgh

(Story)

Dec 12, 2017

Christmas Activities Day

(Story)

Dec 07, 2017

Sia Is Collaborating with MAC, and Fans Are Not Happy About It

(Story)

Dec 05, 2017

Decorate It Contest

(Story)

Nov 22, 2017

J-M Holds Door Decorating Contest for National Education Week

(Story)

Nov 15, 2017

Children's Grief Awareness Day

(Story)

Nov 10, 2017

Glossier's New Skin Care Release

(Story)

Nov 08, 2017

Veterans Day Program

(Story)

Nov 07, 2017
Nov 03, 2017

Why Korean Beauty Products Are Becoming so Popular in the United States

(Story)

Oct 31, 2017

Miss Merry Christmas!

(Story)

Oct 27, 2017

Kylie Jenner Is Releasing 11 New Lip Kit Shades on Halloween

(Story)

Oct 23, 2017

Buy a PopSocket and Support Our Yearbook Staff!

(Story)

Oct 20, 2017

Book Review: Thirteen Reasons Why

(Story)

Oct 17, 2017
Oct 17, 2017

Brody Mazurik – Athlete Biography

(Story)

Oct 13, 2017

Simple and Easy Ways to Decorate for Fall

(Story)

Oct 12, 2017

Makayla McNett – Athlete Biography

(Story)

Oct 10, 2017

2016 Homecoming Queen Helps with the 2017 Crowning

(Story)

Oct 10, 2017
Oct 03, 2017
Oct 03, 2017

Homecoming Parade

(Story)

Sep 29, 2017
Sep 18, 2017

Pink Out Bracelets

(Story)

Sep 15, 2017

Teens and Self-Esteem

(Story)

Sep 15, 2017

A New York Teen Paid for College by Selling on Etsy

(Story)

Sep 12, 2017

Kambreigha Dudas – Athlete Biography

(Story)

Sep 11, 2017
Sep 11, 2017

Jeffree Star Building His Own Beauty Empire

(Story)

Aug 31, 2017
May 30, 2017
May 16, 2017

Cheerleading Tryouts

(Story)

May 12, 2017

Thirteen Reasons Why Announces Second Season

(Story)

May 05, 2017

Spring Fling 2017

(Story)

Apr 26, 2017

Book Review: My Life Next Door

(Story)

Apr 24, 2017

Order Your Final Transcript with Parchment

(Story)

Apr 21, 2017

Cheerleaders Tumbling into the New Season

(Story)

Apr 21, 2017

Why Cheerleading Is Important to Me

(Story)

Apr 20, 2017

J-M National Honor Society hosts walk for Monongahela Valley Hospital

(Story)

Apr 07, 2017

New Jersey teen gets Admitted into Stanford After Writing #BlackLivesMatter 100 Times on Application

(Story)

Apr 06, 2017

Morgan Spencer – Athlete Biography

(Story)

Apr 05, 2017

Book Review: Everything, Everything

(Story)

Apr 04, 2017

Greene County Hosts 1st Autism Walk

(Story)

Mar 23, 2017

The History of Cheerleading

(Story)

Mar 23, 2017

Being the Cheer Captain

(Story)

Mar 22, 2017

Book Review: Anna and the French Kiss

(Story)

Mar 21, 2017

Principal Helps Special Needs Student Finish Race

(Story)

Mar 15, 2017
Mar 08, 2017

Students Should Read More

(Story)

Mar 03, 2017

Cheer Season Coming to an End

(Story)

Mar 02, 2017

Is Prom Too Expensive?

(Story)

Feb 22, 2017

Being The Oldest Sibling

(Story)

Feb 17, 2017
Feb 15, 2017

Dealing With Bullying

(Story)

Feb 09, 2017

Many For-Profit Schools Could Close

(Story)

Feb 08, 2017

Should Schools Be More Strict?

(Story)

Feb 03, 2017

Why Were Trump's Conversations with Foreign Leaders Leaked?

(Story)

Feb 01, 2017

Violence in Schools

(Story)

Jan 26, 2017

Women's March On Pittsburgh

(Story)

Jan 25, 2017

The Selection Series

(Story)

Jan 17, 2017

Kylie Jenner Donates $159,500 to Smile Train

(Story)

Jan 12, 2017

Ayanna Davis – Athlete Biography

(Story)

Jan 11, 2017

Michael Mullen – Athlete Biography

(Story)

Jan 11, 2017

What Gets Me Through High School

(Story)

Dec 15, 2016
Dec 14, 2016

What Having a Little Sister Has Taught Me

(Story)

Dec 07, 2016

Having A New Puppy

(Story)

Dec 01, 2016

What Can Be Learned By Being a Cheerleader?

(Story)

Nov 23, 2016
Nov 21, 2016

The Elections Affect on Students

(Story)

Nov 18, 2016

Holiday Events Near Us

(Story)

Nov 10, 2016

Welcome Nathan Bilonick!

(Story)

Nov 09, 2016

Cheerleader's Transition Into the Basketball Season

(Story)

Nov 09, 2016

High School Dress Codes

(Story)

Nov 02, 2016

Can Cosmetics Change the Way Women Are Perceived?

(Story)

Oct 25, 2016

The New Face of CoverGirl

(Story)

Oct 19, 2016
Oct 18, 2016

Cheerleader's Bringing Spirit to J-M!

(Story)

Oct 14, 2016

Free College Tuition

(Story)

Oct 13, 2016

Madelyn VanDivner – Athlete Biography

(Story)

Oct 12, 2016

My Experience with The Brazilian Blowout

(Story)

Oct 05, 2016
Sep 28, 2016

Favorite Things About Fall

(Story)

Sep 23, 2016

Austin Foreman – Athlete Biography

(Story)

Sep 23, 2016

Brody Mazurik – Athlete Biography

(Story)

Sep 21, 2016

My Favorite Makeup Products

(Story)

Sep 20, 2016
Sep 16, 2016

Welcome David Morgan!

(Story)

Sep 14, 2016
Sep 07, 2016

Crazy Contour Techniques

(Story)

Aug 29, 2016

Back to School Season

(Story)

May 24, 2016

Do Students Really Need Wi-Fi Availible to them in School?

(Story)

May 10, 2016

The Most Dangerous Emotion

(Story)

Apr 11, 2016
Apr 08, 2016

Morgan Kutek – Athlete Biography

(Story)

Apr 08, 2016

Krista McCartney – Athlete Biography

(Story)

Mar 15, 2016

Unlocking iPhones

(Story)

Mar 01, 2016

Most Important Skill

(Story)

Feb 19, 2016
Feb 05, 2016
Dec 09, 2015

New Year's Reflection

(Story)

Dec 09, 2015

Christmas Memories

(Story)

Dec 09, 2015

12 Days of Shopping

(Story)

Dec 02, 2015
Nov 18, 2015

Leslie White – Athlete Biography

(Story)

Nov 16, 2015
Nov 09, 2015

New Promises of Change

(Story)

Nov 05, 2015

Makayla McNett – Contributor

(Story)

Oct 29, 2015

Thanks To Photoshop, a Picture is Not Worth a Single Word

(Story)

Oct 06, 2015

Perspective Matters

(Story)