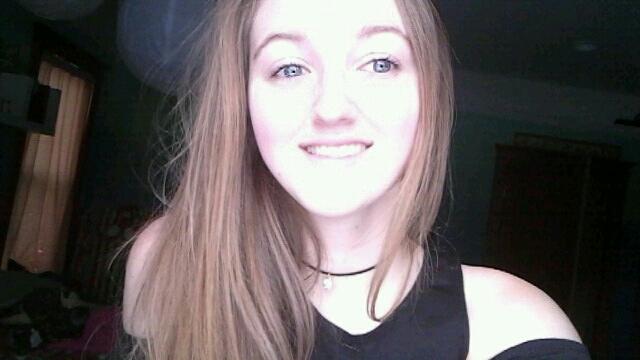 Savannah Saesan is a junior and a second year Journalism student.
Savannah participates in volleyball, and basketball. She also volunteers at her church with children from toddlers to 10 years old.
Savannah loves to listen to music and figure out ways to decorate the house. She is an advid reader and likes to binge watch her favorites shows. She enjoys to bake and cook with her mother. Her other hobbies include hiking, eating, coloring and spending time with her friends or family.
Savannah Saesan, Editor
May 19, 2017

The Night They Will Always Remember

(Story)

May 18, 2017
May 12, 2017

Counterfeiting Tickets

(Story)

May 09, 2017

Get Your Wallets Ready!

(Story)

May 05, 2017

Insider Look: Volunteer Backpacking

(Story)

Apr 26, 2017

Don't Wish for New

(Story)

Apr 21, 2017
Apr 21, 2017

Digging Through the Past

(Story)

Apr 20, 2017

Practice Makes Perfect

(Story)

Apr 18, 2017

Rocking Rocket Bracelets

(Story)

Apr 07, 2017
Apr 06, 2017

Olivia Ricci – Athlete Biography

(Story)

Apr 05, 2017

Life Lessons in School Work

(Story)

Mar 28, 2017

April Showers, Brings Leo Club's Flowers

(Story)

Mar 23, 2017

The Unkown Name from J.K. Rowling

(Story)

Mar 23, 2017

Reading into the Library

(Story)

Mar 22, 2017
Mar 15, 2017

What Will the Weather be Today?

(Story)

Mar 08, 2017
Mar 03, 2017
Mar 01, 2017

Cherished Companions

(Story)

Feb 22, 2017
Feb 17, 2017

The Lunar Chronicles

(Story)

Feb 14, 2017

Searching for a Lesson

(Story)

Feb 10, 2017

Changing the Game

(Story)

Feb 08, 2017

A Night to Remember

(Story)

Feb 02, 2017

Blue Apron for Blue Collars

(Story)

Feb 01, 2017

I am who I am because I am an Athlete

(Story)

Jan 26, 2017

Celebrities: Influential or Let Downs?

(Story)

Jan 25, 2017

Vacation Relaxation

(Story)

Jan 18, 2017
Jan 17, 2017

Elijah Saesan – Athlete Biography

(Story)

Jan 17, 2017

Payton Wright – Athlete Biography

(Story)

Jan 11, 2017

Finding the Flow Again

(Story)

Jan 11, 2017

Trying to Love Yourself

(Story)

Jan 04, 2017

Holiday Happiness

(Story)

Dec 14, 2016

Crazy Experiences

(Story)

Dec 07, 2016
Dec 01, 2016

National Honor Society Insider

(Story)

Nov 23, 2016

Rushing to Christmas

(Story)

Nov 18, 2016
Nov 17, 2016

Powder Puff for Braedyn's Battle

(Story)

Nov 10, 2016
Nov 09, 2016
Nov 02, 2016
Oct 26, 2016
Oct 19, 2016
Oct 18, 2016

NHS is the Place to Be

(Story)

Oct 17, 2016

A Collision with College

(Story)

Oct 12, 2016
Oct 05, 2016

School an Escape in Disguise

(Story)

Sep 28, 2016

Hundreds of Lives

(Story)

Sep 23, 2016

Zack Gamble – Athlete Biography

(Story)

Sep 23, 2016

Matthew Haring – Athlete Biography

(Story)

Sep 23, 2016

Bobby Coles – Athlete Biography

(Story)

Sep 21, 2016

Beware the Pumpkin Spice!

(Story)

Sep 20, 2016
Sep 16, 2016

Juggling School and Soccer

(Story)

Sep 14, 2016
Sep 07, 2016
Jun 20, 2016

Soaking in Summer

(Story)

May 24, 2016
May 10, 2016
Apr 26, 2016

To Care or Not to Care?

(Story)

Apr 15, 2016

Colten Davidson – Athlete Biography

(Story)

Apr 11, 2016

Scheduling for the Future

(Story)

Mar 15, 2016

To Be Private or Discovered

(Story)

Feb 19, 2016

Old Days and Old Ways

(Story)

Feb 05, 2016

Are Tests a Good Testing Method?

(Story)

Dec 10, 2015
Dec 09, 2015

Christmas is the Time for Helping

(Story)

Dec 08, 2015

Basketball Christmas

(Story)

Dec 03, 2015

Making the Best of a Snow Day

(Story)

Dec 02, 2015

Jordan Jento – Athlete Biography

(Story)

Nov 20, 2015

Josh Agnew – Athlete Biography

(Story)

Nov 16, 2015

Thankfulness in Food

(Story)

Nov 16, 2015

My President P.O.V

(Story)

Nov 12, 2015

Savannah Saesan – Contributor

(Story)

Oct 29, 2015

What Parents Don't Understand

(Story)

Oct 07, 2015

Perspective Matters

(Story)