Katrina Schmolke- Athlete Biography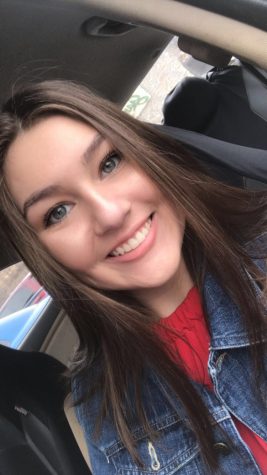 More stories from Makenzie Wright
Katrina Schmolke is a senior and a member of the cheerleading squad.
Schmolke has cheered most of her life starting in the 1st grade, making this her 11th year of participating in cheerleading. She started cheering because her mother was a cheerleader when she was younger and she felt she would also be interested in it. In her stunt group, she has been in many positions, but this year she is a main base. Throughout the years Schmolke has created many memories with her squad that she will keep with her after high school.
"My favorite memory was when the squad was asked to perform for the Mr. JM completion." said Schmolke. "We dressed up as greasers, acted out a skit, and did a dance routine to the classic song 'Hand Jive'."
As a squad, the goal is to better themselves as a whole. They are currently working on becoming a better squad and working together. Schmolke feels like helping the younger cheerleaders grow is a rewarding part of cheerleading.
The most rewarding thing about cheering is watching some of the younger girls improve" said Schmolke. "The elementary girls look up to us, and to them we are their role models. Meeting with them and helping them achieve their goals is such a fulfilling experience."
Schmolke's favorite sport to cheer for is football because she enjoys playing under the lights with the rest of her squad. Also, because of her seniority, Schmolke has a lot to tell to girls who may want to give cheerleading a try.  
My advice is to simply try." said Schmolke. "You will never know the outcome of something unless you make an attempt at doing it. Relax and have fun. It's not as bad as you think ti may be, but you have to try first in order to succeed."
Schmolke looks forward to finishing her senior year with plenty of activities with the rest of her squad. She knows there are still plenty of memories to make and cannot wait to see what the next game holds.
About the Writer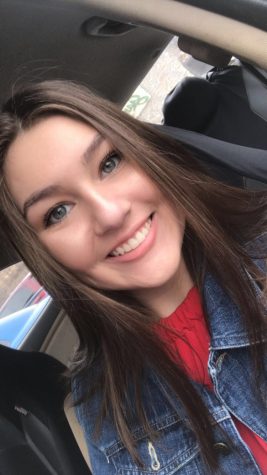 Makenzie Wright, Editor-in-chief
Makenzie Wright is a senior and a second year Journalism student, serving as an editor-in-chief.

Makenzie is a participant in both volleyball and basketball....