Shelby Burkett – Athlete Biography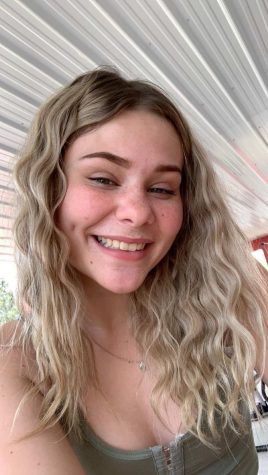 More stories from Casey Schaum
Shelby Burkett is a senior and a member of the cheer leading team.
As a nine year team member, Burkett has made huge accomplishments from her first year in first grade to her last year as a senior. She has worked hard for her place on the team after try-outs. To be on this team it takes patience, be willing to change things on the spot, and confidence. You have to be your own leader and a team player, "There is no 'I' in cheer." Burkett's main goal for this last year as a high school cheerleader is to just have a great time.
"My favorite game this year was the game against Monesson. Even though we lost, it was an exciting game," said Burkett. "I look forward to all the games! I love cheering at every game no matter if we win or lose."
Being a senior and a nine-year member means that Burkett has knowledge and words of wisdom to tell the upcoming seventh-graders and freshmen as they make the transition from sixth grade and middle school.
"Have fun, push through the hard practices and the long, tiring games and just have fun with the squad," Burkett said. "Cheer is a difficult sport that not many recognize."
Burkett and the rest of the team look forward to all the games they get to cheer and be part of.
"Its not about being the best. It's about being better than you were yesterday," she said.
Burkett looks forward to finishing up her high school career with her team and new team members joining. For anyone new joining remember to have fun and laugh lots.