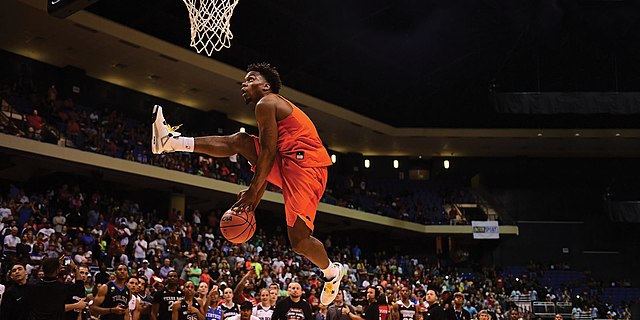 Last weekend, the allstar weekend unfolded at the United Center in Chicago, Illinois. The two teams consisted of some of the best basketball players in the NBA led by their two captains who are the best players in their conference. Each team is picked from a draft pool by the captains of each team. The all star game is one of four events during all star weekend. An arguable favorite for all star weekend is the dunk contest. This event is where players get to show off their high jumping ability and dunking capabilities. There are also two other events that will be mentioned in this article. 
One of the most exciting events of the all star weekend is the  Dunk Contest. The contestants in this year's dunk contest were Aaron Gordon from the Orlando Magic, Derrick Jones Jr. from the Miami Heat, Dwight Howard from the Los Angeles Lakers, and Pat Connaughton from the Milwaukee Bucks. Just like last year's dunk contest the dunk contest was heated all the way until the end with the same people as last year Aaron Gordon and Derrick Jones Jr. Jones had an almost perfect performance scoring 4 straight 50's and a 48 on all five of his dunk attempts. Gordan didn't give up easily though scoring 4 straight 50's but a 47 on his last dunk after dunking over the tallest player in the NBA 7'7" Tacko Fall. Many people were sure that dunk would have given him the edge he needed. Although that dunk put him behind Derrick Jones Jr. by 1 point giving Jones the victory with the final score being 248 to 247. 
Another event that takes place during all star weekend is the NBA All Star Game. Like previously mentioned the all star teams are decided by two captains who represent their conference. The teams this year were Team Giannis led by Giannis Antetokounmpo and Team LeBron led by LeBron James. There were a few rule changes that the league wanted to experiment with so they did it in the all star game. One thing that no one has ever seen before is the scores after each of the first three quarters will reset to zero, with the winner of these quarters receiving $100,000 to be donated to the community organization of its choice. At the start of the fourth quarter the game clock will be turned off and a "Final Target Score" will be set. The target score will be determined by taking the leading team's total score from the first three quarters and adding 24 points. The 24 represents the late legend Kobe Bryant's longtime uniform number.