Red Ribbon Week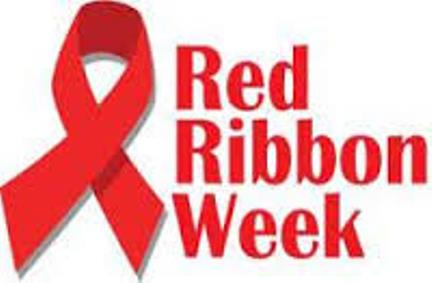 Red Ribbon week is organized to raise awareness to say no to drugs and alcohol which will begin on Monday, October 26.
Student council will pass out themed related treats each day to the student body and faculty.  For each day of participation, the students names will be placed in a gift card raffle giveaway. Monday begins with team up against drugs (Dress in sports apparel) and students will receive eye black with hashtag JMPride on one and hashtag the students grade on the other. Tuesday is don't blow it- make good decisions with a friend (Dress as a twin) and students will be given a piece of double bubble gum. Wednesday is smarties say no to drugs ( Dress like a smartie/nerd) and smarties candies will be passed out. Thursday is "Lei" off drugs (Wear Hawaiian themed clothes) and students will be given leis to wear with their Hawaiian themed clothing. Friday is"Red Out" (Wear Red) and there will also be an assembly held at the end of the day. At the assembly the student council with be drawing the names to choose the winners from the gift card raffle.
Red Ribbon week raises awareness for the daily challenge students and adults face everyday with drug and alcohol use.