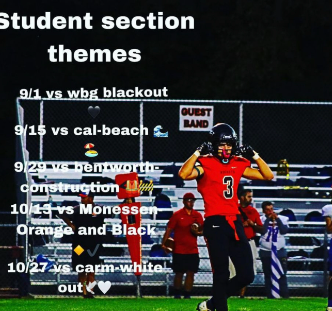 Every home football game for the Jefferson Morgan Rockets there is a theme for the student section. There are many upcoming games to dress up as the theme for the football game. 
Throughout the next weeks of the football season, every home game will have a different theme. The first game's theme was blackout. That was our very first home game. The next home games themes will be beach on 9/15, construction on 9/29, orange and black on 10/13, and white out on 10/27. All these themes are to support the Jefferson Morgan Rockets football team and for all the students to have fun and cheer the Rockets on. 
To find more information about the football themes go to @jmsd_barstool on Instagram.