Aaron Mylan – Athlete Biography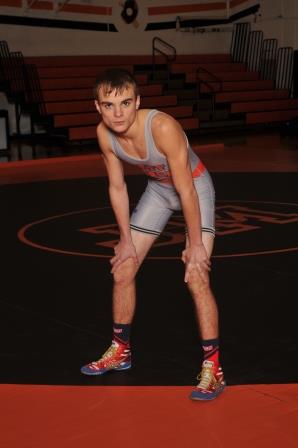 Aaron Mylan is a sophomore and wrestle for the Jefferson-Morgan wrestling team.
Aaron has wrestled for three years and lettered one year and is working on his second year. Aaron's biggest fans are his family; they show support every match he's in. Aaron doesn't have a specific opponent that's the toughest, he said "don't underestimate anyone. Anyone can be your toughest opponent." Aaron's favorite memory of last year was winning the 4th section title in a row. Aaron prepares himself for the season by running and lifting often during the off-season.
Aaron enjoys both away and home matches "I enjoy home matches and away matches. I like the home matches because the whole school is there to support you. I like away matches too because I love beating other teams at their home place."
Aaron is looking forward to this season because he is excited to break 20 wins and help win the section title once again. Aaron loves to be part of the team and loves every match. Aaron loves the atmosphere of fans and cheering.