Caitlyn Dugan – Athlete Biography
Hang on for a minute...we're trying to find some more stories you might like.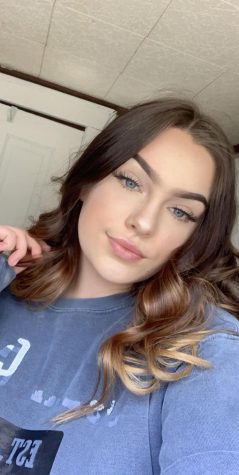 More stories from Madison Kovach
Caitlyn Dugan is a freshman and a member of the softball team.
Dugan has been playing softball for 12 years as a pitcher and a shortstop. Dugan chose number six as her jersey number when she was young, and continues to use it to this day. Softball takes a lot of practice and nonstop pushing, especially as a pitcher, but she pulls it off! Dugan is a starting pitcher for the team and when she is not pitching, she plays shortstop.
"I do not like pitching very much, although I am good at it. Pitching takes a lot of time and determination to become successful, but I hope to pitch one no hitter game before the end of this season," said Dugan. "Shortstop? Now that I like position. Also, I have more time to react to the ball when it is hit to me rather than if I am in the pitchers mound."
As most athletes do, Dugan has a few goals that she hopes to accomplish for the 2017 season, and her main goal is to pitch at least one no hitter game. Dugan previously accomplished this same goal when she was the all-time pitcher for the middle school softball team, and she wishes to accomplish this on the varsity team.
"Last year when I played for the middle school team I had pitched my first no hitter game. I remember it well and I can remember Coach Kaitlyn being so proud of me," said Dugan. "Now, as I pitch for the varsity team I really wish to accomplish this goal again. Although I know high school softball is faster paced with stronger players, I believe I can do it. It is just a lot of hard work and endless practice that will get me there, but I still have the whole season to look forward to."
During this season, Dugan has went through an injury. The athletic trainer, Rachel, sat Dugan at the varsity softball game against Waynesburg. Although the team lost this scrimmage, Dugan still worked hard and came back better than before in the teams first game against Geibel Catholic, which the team won 14-4. This is also the game where Dugan hit her first home run.
"I got a sprained ankle at practice when Coach Rich hit a fly ball, both me and Autumn went after it and we collided together. I just happened to roll my ankle and it sprained, I do not blame anyone for this," said Dugan, "I definitely do not blame Autumn either. Thing's like these happen and I'm glad I am okay."
Dugan plans to continue playing softball throughout her high school career. Dugan looks up to team mate, Autumn Tedrow. Tedrow works hard at practice and stops at nothing to never let the ball get past her, that is why Dugan looks up to her.
Good luck to Dugan and the rest of the softball team in their 2017 season!
About the Writer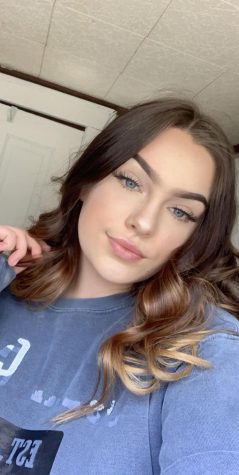 Madison Kovach, Chief Editor
Madison Kovach is a senior and a fourth year journalism student.

Kovach is a member of the school's Library Club, Drama Club, Art Club, Leo Club, and...