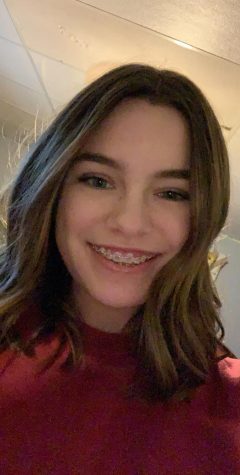 Madison Kovach is a junior and a third year Journalism student.
Kovach is a member of the school's Library Club, Drama Club, Art Club, Leo Club, and she also participates in Big Brothers Big Sisters.
Kovach is in the 4-H Rabbit Club and Horse and Pony Club. She shows and sells her rabbit meat pens at Jacktown and shows her other rabbits at the Greene and Washington Fairs, she also show's her horse Cheyanne at local shows.
Kovach's hobbies include reading, listening to music, and painting.
Kovach has also been crowned the 2018 Greene County Fair Queen.
Madison Kovach, Editor-in-chief
May 30, 2019

Becoming A Senior

(Story)

May 29, 2019

Shrader and Teasdale Awarded at 2019 Greene County Chamber of Commerce Spring Luncheon

(Story)

May 29, 2019

Perfect Attendance Student's Visit Dairy Queen

(Story)

May 29, 2019

Rockets Softball Falls To Leechburg

(Story)

May 22, 2019

Rocket's Softball Advances To Semifinals

(Story)

May 20, 2019

Eighth Grade Students Explore Kinetic Energy

(Story)

May 20, 2019

Seventh Grade Dissects Lamb Eyes

(Story)

May 20, 2019

2019-2020 Principal's Advisory Council

(Story)

May 16, 2019

Jefferson-Morgan Competes at Greene County Reading Competition!

(Story)

May 09, 2019

4-H Animal Science Camp

(Story)

May 09, 2019
May 06, 2019

Brandon's Dad Visits Students of Jefferson-Morgan

(Story)

May 06, 2019

Bring Your Child To Work Day 2019

(Story)

May 06, 2019

Kratty and Kovach Named 2019 Prom King and Queen

(Story)

May 03, 2019

Benefits of Being A High School Athlete

(Story)

May 03, 2019

Jefferson-Morgan Elementary Student Council Sponsors Humane Society Donation Drive

(Story)

May 01, 2019

Payton Wright – Athlete Biography

(Story)

May 01, 2019

Bria Jamison – Athlete Biography

(Story)

Apr 25, 2019

Senior Royer Leaves Her Mark

(Story)

Apr 24, 2019

Jasmine Demaske – Athlete Biography

(Story)

Apr 24, 2019

4-H Capital Days 2019

(Story)

Apr 14, 2019

Royer Wins 1st in Skills USA for Pennsylvania

(Story)

Apr 11, 2019

Art Show & Sale Set For May 8th

(Story)

Apr 05, 2019

Spanish 2 Students Journey Through Mexican Recipes

(Story)

Apr 05, 2019

Performance: The Link Between Sports and Academics

(Story)

Apr 03, 2019

Pennsylvania Sports Hall of Fame (Washington & Greene County Chapter) Welcomes 1973/1974 Rocket Football Team

(Story)

Mar 22, 2019

Greene County Elementary Career Day

(Story)

Mar 21, 2019

Cernuska Awarded 2018-2019 Jefferson-Morgan DAR Good Citizen Award

(Story)

Mar 15, 2019

Andrews Competes At Special Olympics Invitational!

(Story)

Mar 15, 2019

Jefferson Java's Visits JMs's, "Don't Drink the Water"

(Story)

Mar 15, 2019

Miss Agriculture USA

(Story)

Mar 11, 2019

Alexandra Royer Named Jefferson-Morgan Centennial Lions Club February Student of the Month

(Story)

Mar 07, 2019

Art 2 Students Complete Bob Ross Paintings

(Story)

Mar 01, 2019

WVU Block and Bridle Bonanza 2019

(Story)

Feb 28, 2019

Jefferson-Morgan Sends 10 Youth Wrestlers To States!

(Story)

Feb 21, 2019

Library Club Visits Broadway's, "Phantom of the Opera"

(Story)

Feb 21, 2019

Elementary Student Council Collects Food For JM'S Weekend Food Program

(Story)

Feb 15, 2019

Miss Pennsylvania Fair Queen 2019 Visits Cornucopia

(Story)

Feb 14, 2019

Pre-K and Kindergarten Registration

(Story)

Feb 13, 2019

Senior Class Selects "Senior Favorites"

(Story)

Feb 08, 2019

Burkett Attends Ohio State University High School Honor Band Weekend

(Story)

Feb 07, 2019

Waynesburg / Jefferson-Morgan Rifle Team Clinches 4th Section Title

(Story)

Feb 05, 2019

Colt Fowler – Athlete Biography

(Story)

Jan 31, 2019

JM Establishes PLTW Engineering Club

(Story)

Jan 31, 2019

Miss Pennsylvania Fair Queen 2019

(Story)

Jan 25, 2019

Art 2 Students Create Stretched Watercolor Paintings

(Story)

Jan 19, 2019

Elijah Saeson – Athlete Biography

(Story)

Jan 18, 2019

2019 National 4-H Beekeeping Essay Competition

(Story)

Jan 18, 2019

SAFE2SAY Something

(Story)

Jan 11, 2019

Wrestling Senior Night 2019

(Story)

Jan 10, 2019

Library Club Members Complete Hamilton Project

(Story)

Jan 09, 2019

Josh Wise – Athlete Biography

(Story)

Jan 04, 2019

Pennsylvania Farm Show 2019

(Story)

Dec 20, 2018
Dec 20, 2018

JM's Drama To Visit E.L.F the Musical

(Story)

Dec 14, 2018

State Leadership Conference 2019

(Story)

Dec 14, 2018

Advanced Art Guitar Paintings

(Story)

Dec 06, 2018

Keystone Exam Retakes In Full Swing

(Story)

Dec 04, 2018

NHS Members Donate to Angel Tree Project

(Story)

Nov 29, 2018

2018 4-H National Congress

(Story)

Nov 29, 2018

JM's Drama "Don't Drink the Water" Practice Begins

(Story)

Nov 20, 2018

Veterans Day Parade

(Story)

Nov 08, 2018

Sarris Candy Sale

(Story)

Nov 08, 2018
Nov 02, 2018

Greene County Swine Show and Sale

(Story)

Nov 01, 2018

JM Drama Says Hello To Don't Drink the Water!

(Story)

Oct 29, 2018

Silhouette Paintings

(Story)

Oct 25, 2018
Oct 17, 2018

4-H Paper Clover Campaign 2018

(Story)

Oct 11, 2018

Homecoming Court 2018

(Story)

Oct 11, 2018

Fall Craft and Vendor Show

(Story)

Oct 04, 2018

Greene County Rabbit Club

(Story)

Oct 04, 2018

Messiah College Open House

(Story)

Sep 28, 2018

Who Has JM Pride?

(Story)

Sep 27, 2018

Library Club Donates Mini Disaster Relif Kits

(Story)

Sep 26, 2018

What's New at JM?

(Story)

Sep 21, 2018
Sep 19, 2018

Michael Ludrosky – Athlete Biography

(Story)

Sep 18, 2018

Justin Maddich – Athlete Biography

(Story)

Sep 14, 2018

Gary Keylon Visits the Students of JM

(Story)

Sep 04, 2018

Kovach Crowned 2018 Greene County Fair Queen

(Story)

May 21, 2018

2018 Kindergarten Mother's Day Tea and Wedding of P & Q

(Story)

May 01, 2018

Varsity Volleyball Sign Ups

(Story)

Apr 27, 2018

2018 Officer Training

(Story)

Apr 20, 2018

Sephora Tops All Other Beauty Retailers

(Story)

Apr 11, 2018

Spanish Club Visits, "Latin American Rhythms"

(Story)

Apr 05, 2018

Logan Rhodes – Athlete Biography

(Story)

Mar 23, 2018

Looking For a Leader

(Story)

Mar 20, 2018

Need a Summer Job?

(Story)

Mar 16, 2018
Mar 15, 2018

2018 Prom Preparations

(Story)

Mar 06, 2018
Mar 01, 2018

JM Welcomes New Student

(Story)

Feb 28, 2018

Motivational Stickers Step Up JM Pride

(Story)

Feb 22, 2018

PA 4-H Animal Science Camp

(Story)

Feb 20, 2018

Teasdale Takes Fourth WPIAL Title

(Story)

Feb 16, 2018
Feb 14, 2018

Valentine's Day Candy Grams

(Story)

Feb 08, 2018

Spreading JM Pride

(Story)

Feb 08, 2018

New Rabbit Club Officers

(Story)

Feb 02, 2018
Jan 31, 2018

JM Drama Says Hello to Bye Bye Birdie!

(Story)

Jan 26, 2018

PaSRBA 2018 Shows

(Story)

Jan 24, 2018
Jan 18, 2018

United States Botanic Gardens and Conservatory

(Story)

Jan 12, 2018

Washington D.C. 4-H Trip

(Story)

Dec 19, 2017

Julie Policz – Athlete Biography

(Story)

Dec 18, 2017

Louie Debolt – Athlete Biography

(Story)

Dec 18, 2017

Autumn Gustovich – Athlete Biography

(Story)

Dec 18, 2017

Elementary Christmas Program

(Story)

Dec 15, 2017

4-H Christmas Caroling

(Story)

Dec 14, 2017

North Korea Facing Great Aftershocks of Hydrogen Bomb

(Story)

Dec 07, 2017

Track and Field Boosters Continue to Fundraise For Team

(Story)

Nov 29, 2017
Nov 22, 2017

New Members Selected for National Honor Society

(Story)

Nov 17, 2017
Nov 16, 2017
Nov 09, 2017

Carl Sargeant Incident

(Story)

Nov 03, 2017
Nov 03, 2017

2017 Lucas Oil AQHA Show

(Story)

Oct 27, 2017

National Pit Bull Awareness Month

(Story)

Oct 26, 2017

Drama On the Sidelines

(Story)

Oct 13, 2017

Honoring Nick Hillsman

(Story)

Oct 13, 2017

4-H Paper Clover Campaign

(Story)

Oct 12, 2017

EIA and WVN Outbreaks In Tennessee

(Story)

Sep 29, 2017
Sep 21, 2017

Penny Chenery Passes Away At 95

(Story)

Sep 15, 2017

2017 Homecoming Court

(Story)

Sep 15, 2017

2017 Annual District Horse Show

(Story)

Sep 14, 2017

Payton Wright – Athlete Biography

(Story)

Sep 14, 2017

Megan Pecjak – Athlete Biography

(Story)

Sep 13, 2017

Zack Gamble – Athlete Biography

(Story)

Sep 13, 2017

Colten Davidson – Athlete Biography

(Story)

Sep 06, 2017

Policz Crowned 2017 Greene County Fair Queen

(Story)

Sep 06, 2017

Policz Crowned 2017 Greene County Fair Queen

(Story)

Apr 27, 2017

Caitlyn Dugan – Athlete Biography

(Story)

Apr 27, 2017

Zack Gamble – Athlete Biography

(Story)

Mar 06, 2017

More Book Friendly Classes

(Story)

Feb 21, 2017
Feb 16, 2017

White Thoroughbred Being Sold In Auction

(Story)

Feb 02, 2017

Califorina Chrome

(Story)

Jan 18, 2017

Nathan Bilonick – Athlete Biography

(Story)

Sep 13, 2016

Abigal Ozohonish – Athlete Biography

(Story)