Lauren Pahler Named National Math and Science Initiative Stem Star Award Recipient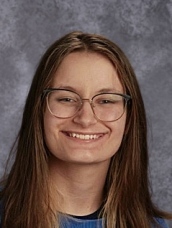 Lauren Pahler has been selected as a recipient of the NMSI Stem Star Award.
Daughter of Michael and Shelly Pahler of Clarksville, Pennsylvania, Pahler is a junior at Jefferson-Morgan High School.
Pahler is a member of the Gifted program, Drama Club, Academic Team, Spanish Club, National Honor Society, Yearbook, and the Principal Advisory Club.
She is secretary for NHS, social media coordinator for Drama Club, editor of the yearbook, and she is the announcer for the JM Rocket Band.
Pahler has studied guitar and voice for seven years under the direction of Lucien Schroyer of LPS Guitar.  She is a junior firefighter for the Clarksville & Community Volunteer Fire Department.
"I enjoy the challenge of doing college-level work in a high-school environment.  I am also passionate about the subjects discussed in the classes. The most rewarding part of taking an AP course is the enrichment it gives me as a stuent who likes to be challenged academically," stated Pahler.
Pahler is enrolled in AP Calculus, AP Government and Politics, and AP Language and Composition.