Round up at Texas Roadhouse
Texas Roadhouse is an American Fare restaurant with locations all over the United States, even in Washington, PA. With it's western-hoedown theme and friendly workers, Texas Roadhouse is the closest anyone can get to the real deal without leaving the state.
Texas Roadhouse was founded in February, 1993, by the current owner Wayne Kent Taylor in Clarkesville, Indiana. The owner was not originally invested in Texas though, originally he wanted a Colorado themed restaurant. Even with the rapid speed of growth – having 67 restaurants by the end of 1999 – this family-friendly restaurant did not become a public company until 2004. 
To start off on this wonderful night in Texas Roadhouse, why not get some drinks? They offer Coke products, Flavored Lemonade, Tea, and Bottled Water. These drinks are offered to kids, teens, and adults. The prices range between $1.99 and $3.49.
Texas Roadhouse may have a wide variety of drinks, but what about the appetizers? They have a classic cactus bloom for $6.99, fried pickles for $4.99, rattlesnake bites – jalapenos and jack cheese bites – for $5.99, tater skins for $6.99, grilled shrimp for $6.99, boneless buffalo wings for $8.99, cheese fries for $6.99, killer ribs for $9.99, texas red chili for $2.99/$3.99, and the combo appetizer for $9.99.
Now that appetizers have been chosen, take a look at the main course. There's chicken, steak, ribs, salads, burgers, and a kids meals. Anything you could ever wish for, all of which include two sides of your choice – apple sauce, corn, coleslaw, baked potato, caesar salad, fresh vegetables, green beans, house salad, mashed potatoes, sauteed mushrooms, sauteed onions, seasoned rice, steak fries, sweet potato, and texas red chili. These meals range anywhere from $3.99 to $26.99.
Desserts at Texas Roadhouse are just the cherry on top of the cake, the strawberry cheesecake that is. Grandma's Apple Classic definitely brings the feeling of sitting on grandma's porch with a ginormous bowl in hand, listening to her hum and talk about bingo night. The big ol' brownie brings out the inner chocolate lover in everyone and is just the best way to end a night out.
Texas Roadhouse offers online reservations as well as ordering online, to do so you can simply visit their website and select "ORDER-TO-GO" or "WAITLIST". This family-friendly restaurant allows anyone dining in to watch the waitresses dance to specific songs. To contact the nearest site you can call (724) 222-4900 and the fax number is (724) 222-6344.
The closest Texas Roadhouse to Jefferson-Morgan is in Washington, PA. It is open from 3:00pm – 11:00pm Monday through Thursday, 11:00am – 11:00pm Friday and Saturday, and 11:00am – 10:00pm on Sunday.
About the Writer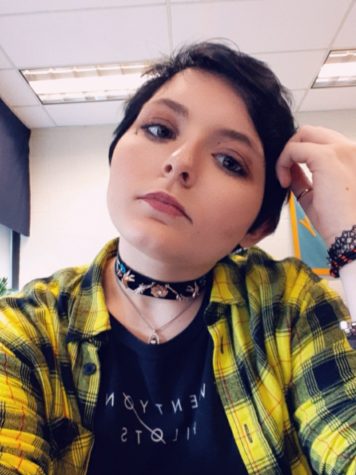 Haley Grose, Contributor
Haley Grose is a senior and a first year journalism student.

In her free time, Grose likes to play musical instruments, watch horror films, write, draw,...