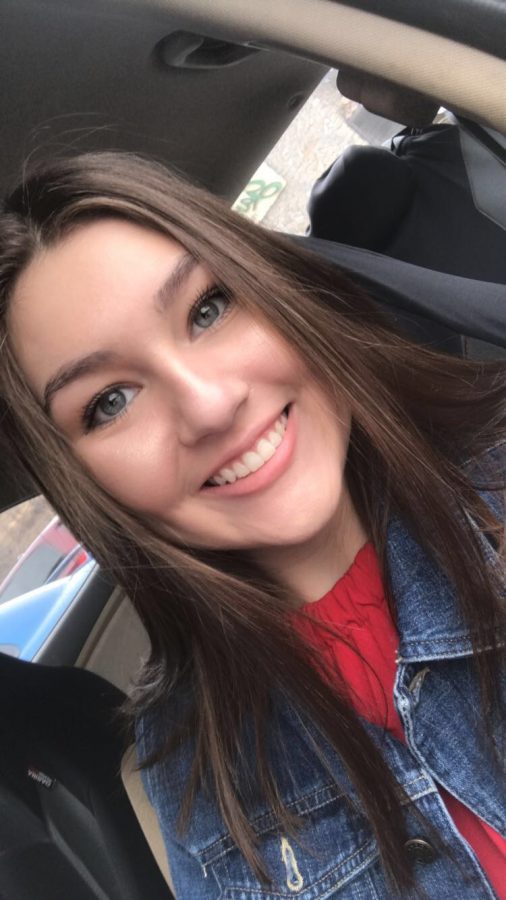 Makenzie Wright is a senior and a second year Journalism student, serving as an editor-in-chief.
Makenzie is a participant in both volleyball and basketball. She is also apart of many clubs such as Leo Club, National Honor Society, Academic Team, Yearbook, Science Olympiad, Envirothon, Drama Club, Reading Club, Peer Mentoring and Debate Team.
In her free time. Makenzie enjoys going shopping or out to dinner, as well as reading and spending time with her dog.
Makenzie Wright, Editor-in-chief
May 23, 2019

Bittersweet Endings

(Story)

May 21, 2019

Ayden Pratt – Athlete Biography

(Story)

May 21, 2019

How to Sign up to Donate Blood

(Story)

May 21, 2019

Logan Rhodes – Athlete Biography

(Story)

May 20, 2019

Seniors Finish Their Last Week of High School

(Story)

May 13, 2019

Senior Banquet to be Held in the Auditorium

(Story)

May 07, 2019

Devin Stoneking – Athlete Biography

(Story)

May 06, 2019

Envirothon Team Competes at Hunting Hills

(Story)

May 03, 2019

Liam Ankrom – Athlete Biography

(Story)

May 02, 2019

SADD Gives Grim Reaper Day One Last Chance

(Story)

Apr 30, 2019

What is it Like to be a First Time Blood Donor?

(Story)

Apr 26, 2019

Who Will Be The Next Fresh Prince of JM?

(Story)

Apr 15, 2019

The Colby's Stars Kickball Tournament is Looking for Volunteers!

(Story)

Apr 08, 2019

Prom Tickets Are on Sale!

(Story)

Apr 05, 2019

Why Blood Donation is Important

(Story)

Apr 03, 2019

Seniors Continue to Apply for Scholarships

(Story)

Mar 26, 2019

JM Attends STEAM Competition

(Story)

Mar 19, 2019

Blood Drive Was a Success!

(Story)

Mar 15, 2019

What is St. Patrick's Day?

(Story)

Mar 11, 2019

NHS To Host Red Cross Blood Drive

(Story)

Mar 07, 2019

JM Competes in Science Olympiad

(Story)

Mar 05, 2019

JM Hosts Fresh Prince of JM Competition

(Story)

Mar 01, 2019

Daylight Savings Is Approaching!

(Story)

Feb 26, 2019

JV and Varsity Academic Teams Make Playoffs

(Story)

Feb 22, 2019

JM Announces 2019-2020 Course Selection Sheet

(Story)

Feb 18, 2019

American Legion Auxiliary Announces Essay Contest

(Story)

Feb 15, 2019

Should it be Called Valentines Day or Galentinesday?

(Story)

Feb 14, 2019

JM Implements New Bell Schedule

(Story)

Feb 13, 2019

Madelyn Reeves – Athlete Biography

(Story)

Feb 11, 2019

2019 Hershey Essay Contest

(Story)

Feb 06, 2019

Abigail Nelson- Athlete Biography

(Story)

Feb 06, 2019

Devin Stoneking- Athlete Biography

(Story)

Feb 06, 2019

Adam Hobe Named Jefferson-Morgan Centennial Lions Club January Student of the Month

(Story)

Feb 04, 2019

Student Council Supports Colby's Stars Foundation

(Story)

Jan 29, 2019

Reading Club Attends Hamilton

(Story)

Jan 28, 2019

Kovach Represented Greene County in Fair Competition

(Story)

Jan 21, 2019

Reading Club sees Hamilton

(Story)

Jan 18, 2019

Fake Diet Foods of 2019

(Story)

Jan 17, 2019

2018-2019 Band Seniors

(Story)

Jan 14, 2019

Lions Club Blood Drive

(Story)

Jan 14, 2019

After School Tutoring

(Story)

Jan 07, 2019

School Blood Drive

(Story)

Jan 04, 2019
Dec 17, 2018

Winter Spirit Week

(Story)

Dec 14, 2018

Students Sell Cupcakes to Support School Star Program

(Story)

Dec 11, 2018

Environthon T-shirt Contest

(Story)

Dec 10, 2018
Dec 03, 2018

JM Light Up Night

(Story)

Nov 20, 2018
Nov 16, 2018

Thanksgiving Black Friday Deals!

(Story)

Nov 09, 2018

All Section Volleyball Players

(Story)

Nov 05, 2018

Holiday Season Begins

(Story)

Nov 05, 2018
Oct 29, 2018
Oct 26, 2018

Students of Month for September and October

(Story)

Oct 22, 2018

Kaitlin Wood Crowned 2018 Homecoming Queen

(Story)

Oct 19, 2018
Oct 15, 2018
Oct 12, 2018

Project Adventure

(Story)

Oct 09, 2018

Athletic Trainer Workshop

(Story)

Oct 04, 2018
Oct 02, 2018

Cinderella Ball Tickets!

(Story)

Sep 28, 2018

See You at the Pole

(Story)

Sep 24, 2018
Sep 21, 2018

31 Nights of Halloween

(Story)

Sep 17, 2018

Brynn Boyd – Athlete Biography

(Story)

Sep 17, 2018

Carrington Teasdale – Athlete Biography

(Story)

Sep 14, 2018
Apr 16, 2018

Madelyn Van Divner – Athlete Biography

(Story)

Apr 10, 2018

Give Thanksgiving a Chance

(Story)

Apr 03, 2018

Beauty Standards in Young Women

(Story)

Mar 06, 2018

Less School, More Sleep

(Story)

Jan 24, 2018

Abigail Ozohonish – Athlete Biography

(Story)

Dec 18, 2017

Hello 2018, Goodbye 2017

(Story)

Dec 06, 2017

Drama Club Set to Rock on Saturday

(Story)

Nov 22, 2017

Cohen v. Westwick

(Story)

Nov 22, 2017
Nov 03, 2017

High School Students Celebrating Fall

(Story)

Sep 18, 2017

Katrina Schmolke- Athlete Biography

(Story)

Sep 18, 2017

Autumn Gustovich- Athlete Biography

(Story)

Sep 18, 2017

Randi Agnew- Athlete Biography

(Story)

Sep 06, 2017

Makenzie Wright- Contributor

(Story)